We really have some dedicated, hard-working, and inspiring women in the Stateline so in honor of Women's History Month, B103 is saluting women owned businesses right here in the local area.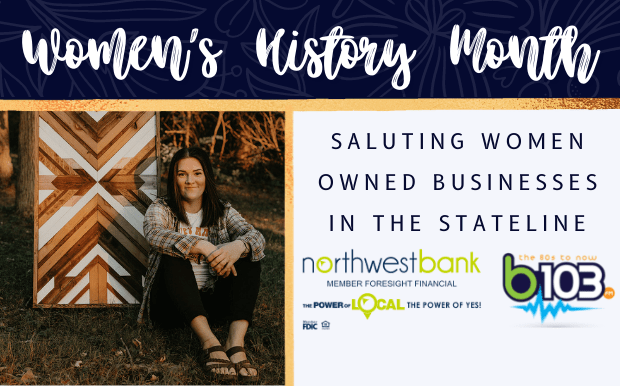 1. Tell us about yourself and your business:
I am a single mother of 3 children, who are my world. I have always loved woodworking and working with my hands. For a few years, I made art on the side for extra cash and it wasn't until the shutdown that I opened my storefront.
I started out making farmhouse painted signs and slowly evolved into what I am doing now, which are wood mosaics, nursery round signs and business signs. February of 2021, I came across my current storefront location and fell in love.
I reached out to the landlord that same day and immediately knew this would be my future storefront. A couple weeks later, I signed the lease and my wild journey began. I knew that I would need help to fill the space, so I reached out to local business owners and artists. Applications started flooding in and before I knew it, I had found my people. I wanted to use my platform to help artists and small businesses make a name for themselves.
2. What inspired you to start your business?
I never really wanted to ever work for anyone. Previously, I was a Licensed Massage Therapist, and my last employer was in a very stressful environment. I remember driving to my job in tears, crying in between appointments and crying when getting home.
It definitely was not something that I wanted to do. So the first chance I got, I retired from the profession. The shutdown really opened doors for me and I dove head first into my passion of woodworking. I wanted to be able to see my kids grow up, and to be present in their lives. Working for an employer, I felt as if I was missing life happening around me. So I decided, why not. Why not, open my own shop and see my kids daily and watch them grow.
3. What's it like being a female business owner here in the stateline?
Being a female business owner is definitely rewarding but challenging. More and more women are opening businesses, so there is a sort of sisterhood with that. We all want to support each other, promote each other and to work together.
But on the flip-side, I also have to battle a male dominated field of woodworking. Every trip I take to a supply store for lumber, my abilities are questioned. So as a woman I feel as if I have to prove myself, to set an example and to be able to mentor any person that walks in my door. Over all, owning a business here in the stateline has been amazing. The amount of support and love that I have received has been nothing short of amazing.
4. What advice would you give to a woman wanting to start her own business?
Here is my biggest advice for women wanting to start and/or open a business:
a. Believe in yourself. Don't trust your doubts or fears. If you are uncomfortable, you're growing.
b. Find your tribe. It is so important to surround yourself with people who have your same vision and that want you to succeed. These will be people you can share tears with, laughs, ups and downs.
c. Be kind to anyone and everyone you meet. You never know how those people are connected. Networking will be your biggest tool for success.
d. Never forget why you started. If you start to lose sight of it, you will burn out. There is never any shame in pausing and regrouping.
5. Who or what has been your biggest support system as a female business owner in the community?
My biggest support as a female business owner has been my family and my two best friends. My family has helped prepped the storefront, business advice, as well as help with the kids, moral support and encouragement. My two best friends, Leighia Halvorsen and Nicole Erickson. Leighia owns Gunny&Co, a candle company and Nicole owns Autumn and Oak, a minimalistic baby/toddler boutique.  We have shared so many tears, laughs, hugs and long long talks. They both have always been my go-to people for anything life and business related. They have helped with planning, installing fixtures, business advice, everything.