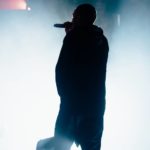 NBA Youngboy has revealed the release date and cover art for his upcoming album, 'Don't Try This At Home,' taking to his personal Twitter account to announce that his new project will include 33 songs, set to drop April 21st. 'Don't Try This At Home' is expected to include NBA's latest single "Demon Party."
The cover artwork for the upcoming LP depicts the F.G. Clark Activity Center in Youngboy's hometown of Baton Rouge, Louisiana — home to Southern University's Jaguars basketball team — adorned with 'Don't Try This At Home' graphics on its roof.
'Don't Try This At Home' is NBA's first new music 'I Rest My Case' was released in January via Motown Records (his first since leaving Atlantic Records). It debuted at No. 9 on the Billboard 200 chart with roughly 29,000 total album-equivalent units in its first week.
NBA Youngboy Announces New Album 'Don't Try This At Home' Feat. 33 Songs
Editorial credit: Losev Artyom / Shutterstock.com