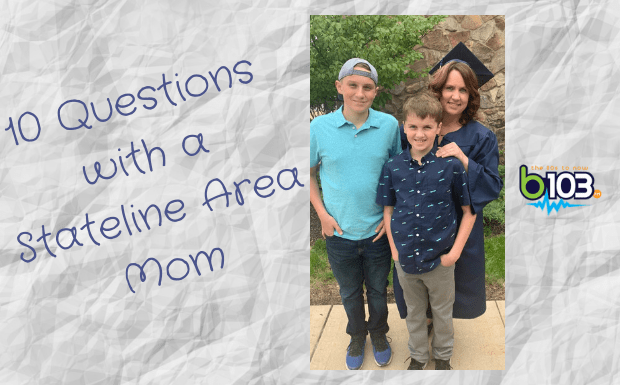 First Name: Stacy
Age: 39 (6 months until I'm 40!)
Town: Machesney Park
Marital Status: Divorced – Single Mom raising two boys without their dad who's in NC.
 (Thank God every day that my mom is here to help me)
Kids: 12 yr old Wyatt and 10 yr old Dutton 
Occupation: Accounting Assistant 
1. How are you feeling right now? 
Finally at peace and happy with my life! Still in court with their father (6 years after we signed our divorce), but no matter the outcome I'm at peace and not angry anymore! In this moment life is pretty amazing!!! 
2. If you could go back to one part of your kid's life and enjoy it all over again…what would it be? 
I wish I could go back to the times up at my grandma's lake house with my grandma, mom and my boys out on the boat. Those were the best memories during the most difficult time of my life. Going through a divorce when they were 3 and 5 years old. 
3. Was it difficult trying to get pregnant? 
I was scared the first time. I was burned in a fire as a child and have 3rd degree burn scars all over my stomach. Doctor was concerned that my scars would stretch as the baby grew. The miracle of my survival and the two pregnancies showed me there's something greater than me out there! I had no complications! 
4. What's one "mom chore" you would forever outsource if you could? 
Laundry! It never stops! And the person who takes it over will definitely need to put it ALL away too!!!! Just when I think I'm caught up I gotta do it all over again! 
5. Do you daydream about being a stay at home mom? Do you think you could do it? 
I enjoy working, when my boys are at school. I recently graduated from Rock Valley College and within two weeks was blessed with an awesome job that allows me to now be home with them after they get out of school! This is HUGE for our family! 
6. What's the one thing you would have done differently so far with your kids? 
Being more careful about guys I let into their lives. I've allowed 2 men who didn't work out and I hate that I allowed their hearts to break with mine. 
7. If you could be instantly transported anywhere right now…where would you go? 
The beach….. I find my soul and mind are recharged when my feet are in the sand and water! I've been to Florida twice in the last 2 months and another time in October. Feels amazing to get recharged and destress!
8. What are you currently obsessed with? 
My bike! It's a nice peddle bike and a great stress buster! I spent a lot of money for this bike, but worth every penny! 
9. Are you content with how your life is now? 
Living in the moment! I'm content with being single right now the most. I've allowed the wrong guys in my life trying to find love after my divorce instead of focusing on myself. Right now I'm content with just being in my moments and making memories with my boys! 
10. Fill in the blank: "I need more ______ right now." 
Friends! Those that fit my future not my past!
*Interested in being our next featured mom? Email Lisa Tyler: Lisa@b103fm.com*
Read about past featured moms here: https://www.b103rockford.com/10-questions-with-a-stateline-area-mom/