Tilted 10: Win a Golden Ticket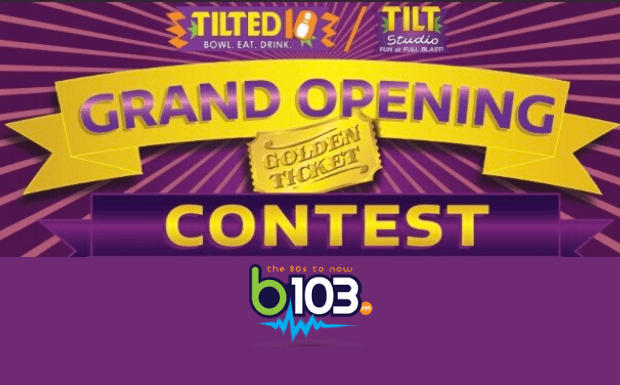 NOW OPEN! Tilted 10: Bowl. Eat. Drink; Tilt Studio: Fun at Full Blast; Next Level of Fun concept of Nickels and Dimes Incorporated located inside Cherryvale Mall.
Entertainment Facility for young and young at heart, a night out with friends, or a day with the family;  120,000 sq. ft, 2 levels
Downstairs features 12 bowling lanes: with traditional 10 pin bowling, family fun games, and the new Hyper Bowling experience; restaurant and bar area with chef inspired menu and cocktails, their very own Tilted 10 lager; a Hologate virtual reality arena; a 15,000 sq. ft Jungle/Alien laser tag arena; Pinball Alley; plus numerous other inter-active video, simulator, and merchandise games.
The upstairs features the Tilt Studio family entertainment division of over 100 interactive video, redemption, merchandise, fabulous redemption station, and attractions.  Attractions are Spin Zone Bumper Cars, Highway 66 Mini Bowling, 2 black-light mini golf courses themed as Mori the Martian and underwater White Shark.
There are also event spaces on both levels to accommodate events from children's birthday parties to corporate VIP functions.
Enhanced cleaning procedures are in place including hand sanitizer stations throughout the space.
Restaurant and bar areas will open later in the summer.
Sign up below to win a Golden Ticket worth 1.5 hours of all-you-can-play video games & attractions!