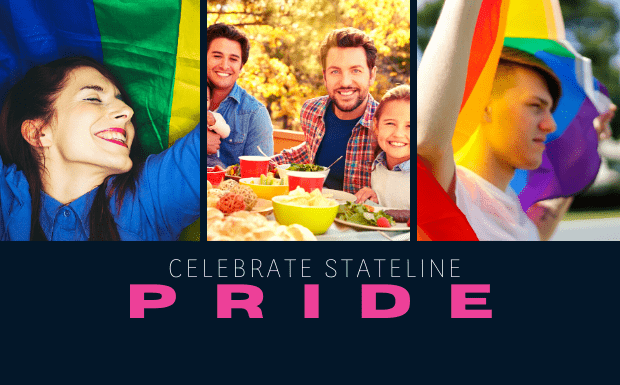 Happy Pride! This month, we will celebrate pride month in the Stateline and highlight resources for the local LGBTQ community!
---

CITY LANDMARK ILLUMINATION
June 1 – 30, 2021
Beginning June 1, all city landmarks will be illuminated in Pride Rainbow colors throughout the entire month of June. This coordinated illumination will include landmarks such as Rockford City Hall, the Morgan Street Bridge, Main Street, as well as Prairie Street Brewhouse, and Nicholas Conservatory & Gardens.
Several Rockford region businesses are also celebrating Pride Month with specials and deals throughout June!
Pride Events in the Stateline! 
June 4th: TGIF Pride Anthems
Dance Party hosted by Aalanta Diamond starts at 10 pm!
June 5th: Pride Alley Party
The kick-off event for Rockford's Pride Month will start at 3 pm on Saturday, June 5th. You can expect a good variety of food trucks and vendors!
Among the activities planned include a drag queen bingo, car parade, raffle, live music, DJs, a pop-up drag show, and more! Local drag celebrities and representatives from area LGBTQ and allied organizations, including key officials from the City of Rockford are expected to attend and speak. This event is FREE and open to the public of all ages!
Participating businesses/organizations include Beefaroo, Bristol and Timber, TacosNMadres, 15th and Chris, Bacon ME Crazy, Sisters Thai Cafe, Jammin Jerk Grill, Quixotic Bakery, Hoo Havens, TStorm, Hues with Heart, Luna Datura, Ichabod, Kellie-Cheree candles, 317 Art Collective, Eden Brown Art, The Vintage Beau, Tricoci, Poems and Petty Stuff, Hutchins World Travel, PFlag, The Liam Foundation, Spectrum of Rockford and Harmony Center, Rockford Public Library, Sexuality and Gender Alliance at RU, Emmanuel Lutheran Church, Mama Lee Gourmet Popcorn, B103 FM, Anytime fitness, Wreath for all seasons, Rockford rage, Elisa's Sparkling Gems, Pink Zebra, Rockford psychic, no complaints (Ibarra) Nightshade's Aromas, Mi Dulce Candy and many more!
For more information, contact The Office NiteClub via email at theoffice.rockford@gmail.com or visit their website HERE.
June 11th: The Kings and I
Espinosa & Coffey live at 8 pm then Kings and I drag show at 11 pm.
June 12th: Moana's Mavens
Pride-themed drag show hosted by Moana Lotte starts at 11 pm.
June 13th: Woodstock PrideFest Parade

Walker, riders, and floats are welcome but they do require pre-registration. This is a Family-Friendly event that will end with a loop around the Square and the kickoff to PrideFest 2021. Come out for a fabulous day after the parade for music, entertainment, vendors, food, and more- all located at the Historic Woodstock Square, a minute's walk from the UP-NW Metra station, with lodging nearby. Make a weekend of it with fun pride-themed events throughout the weekend. Things will look a little different, but the love and self-celebration will be there. Social Distancing and Masks will be required. Yes, even outside; love yourself, love your neighbor, wear your mask. Interested in joining the parade? Apply HERE.
June 17th: Drag Queen Bingo
Hosted by Anchantriss and Krystal Ball starts at 7 pm.
June 18th: Noche Latina
with DJ Cachorro and TacosNMadres starts at 10 pm.
June 19th: SLAY 
Special Pride presentation drag show hosted by Adenah Killz
June 25th: Splurge
OVER THE RAINBOW THEME Drag/Dance/Art Show hosted by Brent Blaze starts at 10 pm.
June 26th: Charm School
Drag competition hosted by Ja'Nyiah Mone' Diamond Banx$ starting at 11 pm.
June 26th: 2nd Annual Pride In The Park Picnic & Concert
Take pride in our local LGBTQ+ community at the 2nd annual Pride in the Park Picnic & Concert here in Freeport! Come, socialize, make friends, everyone is welcome! If anyone is interested in contributing to this event, please click HERE.
June 27th: Pride Drag Brunch
Mid-day drag with food and drinks starts at 1130 am.
Pride in Chicago has been postponed until October
October 3rd: Chicago Pride Parade 2021
The parade kicks off at noon on Sunday, October 3, 2021, at Montrose Avenue and Broadway in Uptown and ends near the intersection of Diversey Parkway and Sheridan Road in Lincoln Park.
On Sunday, the roar of the crowd heralds the start of the Pride Parade, a dazzling cavalcade of diversity. The streets are lined 12 people deep as 750,000 people cheer the contingents on and enjoy the show, culture, and experience! For the liveliest viewing spots head to the Boystown section of North Halsted Street, between Belmont Avenue and Grace Street. If you are seeking a less crowded area to view the parade, look for your viewing spots near the beginning of the route along Broadway between Montrose Avenue and Sheridan Road or further along Broadway between Belmont Avenue and Diversey Parkway.
Transit information is available HERE. Buy your fare in advance to avoid long lines or use Apple Pay, Google Pay, or Samsung Pay to tap on to a bus or train.
---

LGBTQ activists have been fighting for this for a long time. Same-sex marriage was recognized in Illinois on November 20, 2013, and took effect on June 1, 2014. This law was signed by Governor Pat Quinn. This was two years before the U.S. Supreme Court ruled that every state must allow same-sex unions! Go LGBTQ!
If you've found your better half and you're in the LGBTQ community, you're probably wondering how you can get married and start planning your dream wedding!
---

Why do we celebrate Pride Month? Yes, the LGBTQ community knows how to have fun and really throw a party, but the reason Pride month is celebrated in June isn't because of the weather but because of
Gay rights in the United States dates back to at least 1924, the founding of the Society of Human Rights in Chicago by Henry Gerber. But the event that catalyzed the gay rights movement came in June 1969 in New York City's Greenwich Village, at the Stonewall Inn.
In the early hours of June 28, the police raided this popular place where young gay men, lesbians, bisexuals, and transgender people gathered, arresting the employees for selling liquor without a license, roughing up many of the patrons, and clearing out the bar.
Outside of the crowd, watched the bar's patrons being herded into police vans became enraged. Previous witnesses to police harassment of members of the LGBTQ community had just stood by. This time the crowd had enough and decided to mock the police by throwing coins and other things at them. This forced the police to barricade themselves in the bar and wait for backup. Meanwhile, hundreds of people rioted. Police reinforcements dispersed the crowd, and riots began outside the bar for the next five days. These Stonewall riots (also referred to as the Stonewall uprising) provided the spark that ignited the gay rights movement throughout the United States.
---

The process of coming out is different for every person. Some are lesbian, gay, bisexual, or transgender people and normally come out to friends and family at an early age, while others tend to live a more private life.
Coming out to yourself and/or someone you know can be incredibly scary. There is no right or wrong way to do it.
If you need support at this time:
The Trevor Project is the leading national organization providing crisis intervention and suicide prevention services to lesbian, gay, bisexual, transgender, and questioning (LGBTQ) young people ages 13-24.
The National Suicide Prevention Lifeline is a national network of local crisis centers that provides free and confidential emotional support to people in suicidal crisis or emotional distress 24 hours a day, 7 days a week.
Crisis Text Line is free, 24/7 support for those in crisis. Text from anywhere in the USA to text with a trained Crisis Counselor.
(youth serving youth through age 25) (800) 246-7743
Both provide telephone, online private one-to-one chat, and email peer-support, as well as factual information and local resources for cities and towns across the United States.
Trans Lifeline is a trans-led organization that connects trans people to the community, support, and resources they need to survive and thrive.
Youth Information
Provides advice and assistance to runaways, including resources, shelter, transportation, assistance in finding counseling, and transitioning back to home life. NRS frontline staff will also act as advocates and mediators if/as needed.
The True Colors Fund is working to end homelessness among lesbian, gay, bisexual, transgender, queer, and questioning youth, creating a world in which all young people can be their true selves. True Colors United runs a database of service providers.
Addresses individuals coping with non-suicidal self-injury, including locally-based information, support, and therapy referrals.
HIV/AIDS Information
This hotline provides HIV and AIDS information for prisoners and accepts collect calls.
(800) 342-AIDS / (800) 344-7432 (Spanish) / (800) 243-7889 (TDD)
Other Hotlines
(800) 799-7233 (English and Spanish) (800) 787-3224 (TTY)
They also have an online chat feature available. Operating around the clock, seven days a week, confidential and free of cost, the National Domestic Violence Hotline provides lifesaving tools and immediate support to enable victims to find safety and live lives free of abuse. Highly trained, experienced advocates offer compassionate support, crisis intervention information, and referral services in over 170 languages.
Chemical dependency/mental health referral and information hotline for the LGBTQ community.
(800) 656-HOPE / (800) 810-7440 (TTY)
The nation's largest organization fighting sexual violence, RAINN also carries out programs to prevent sexual violence, help victims, and ensure that rapists are brought to justice.
We're asking the questions to increase awareness and understanding of the LGBTQIA+ community during Pride Month. Click here to read, "I'm Coming Out," stories from local individuals!