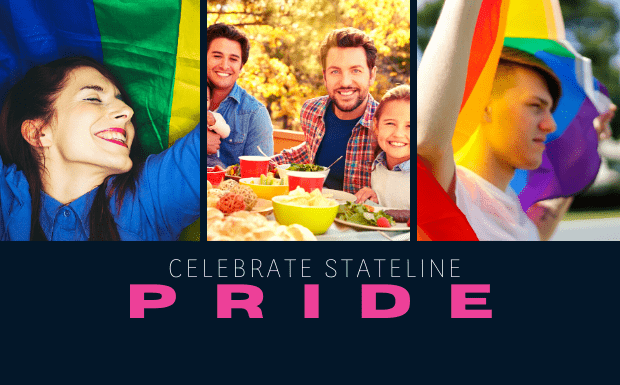 Happy Pride! This month, we will celebrate pride month in the Stateline and highlight resources for the local LGBTQ community!
---

CITY LANDMARK ILLUMINATION
June 1 – 30, 2021
Beginning June 1, all city landmarks will be illuminated in Pride Rainbow colors throughout the entire month of June. This coordinated illumination will include landmarks such as Rockford City Hall, the Morgan Street Bridge, Main Street, as well as Prairie Street Brewhouse, and Nicholas Conservatory & Gardens.
Several Rockford region businesses are also celebrating Pride Month with specials and deals throughout June!
Pride Events in the Stateline! 
June 1st: Biweekly Pride Month Trivia at The Office NiteClub at 7 PM
June 2nd: LGBTQ+ Women's Chill and Chat at The Office NiteClub
Chat up ideas for meetups that will be fun and foster a closer community within the LGBTQ+ family! (This is for women who belong to LGBTQ+) What to bring?? Just your fabulous and authentic self!
June 4th: Pride Alley Party
The celebration will take place on Saturday, June 4th, from 2pm to 9pm. There's a whole list of local food trucks and vendors! Highlights of the event include a drag queen bingo, car parade, grand prize raffle, live bands, DJs, pop-up drag show and more! Local drag celebrities and representatives from area LGBTQ and allied organizations, including key officials from the State and the City of Rockford are expected to attend. This event is FREE and open to the public of all ages! Get more info, HERE.
Participating establishments this year include: Woodfire, J and C Old fashioned Ice Cream, TacosNMadres, Bacon Me Crazy, Sisters Thai Cafe, Blazin Magic BBQ, Ka-Boa, Main Squeeze, Magic Crepes, Luna Datura, Kellie-Cheree candles, PFlag Rockford, The Liam Foundation, Sexuality and Gender Alliance at RU, City of Rockford Health Dept., Spectrum of Rockford LGBT+ Counseling Center and Harmony Center for Holistic Pschotherapy, Oak Street Health, B103 FM, Anytime Fitness, Tricoci University, Rockford Rage, Vintage Beau, State Farm's J Andrew Blevins, Sugar Britches, Crown of Many Colors, Pink Zebra, Goosehead insurance, Sweet Tooth 815, Hutchins World Travel, Lutheran Ministries, LeKrow Art, Eden Brown Art, Rockford Crawl and Draw, Wreath for all Seasons, Elisa's Sparkling Gems, B. Alms Salon and Spa, LA Tan, Keith Country Day School, Medicare 411, Meta Beauty Collective, Stop Complaining Markets, Magic crepes, Nightshade Aromas, Edward jones, Paparizzi, Toys from the Litter Box, Amazon, Inferno Custom designs.
June 12th: Pride Drag Brunch
Head out to The Office Niteclub for a summer drag brunch! Drag brunches are special but very occasional events offered at the bar. So act fast and reserve this dinner and show! Your ticket gets you AMAZING DRAG PERFORMANCES , an eat all you can dinner, and DRAG WAITSTAFF! It's a guaranteed great time! The event will be hosted by the amazing Adenah Killz. Performing queens include Auntie Heroine, Miss Gay Wisconsin USofA Newcomer Ja'Nyiah Moné Diamond-Banx$ , Miss Office Niteclub 2022 Nia Chanel and more!
Doors will open at 11:30am
Professionally catered brunch buffet (all you can eat) from ABC Catering include: Fried Chicken chicken, Mostaccioli, cheesy potatoes, scrambled egg, bacon, sausage, French toast, biscuits and gravy, fresh fruits, muffins, pastries and other desserts, Adult beverages are available for a separate price.
Seating is limited and advanced purchase is encouraged. If buying for yourself but you want to be seated as part of a group, please indicate name of the group's ticket holder. Call the bar at 815-965-0344 or email theoffice.rockford@gmail.com for more information.
---

LGBTQIA+ activists have been fighting for this for a long time. Same-sex marriage was recognized in Illinois on November 20, 2013, and took effect on June 1, 2014. This law was signed by Governor Pat Quinn. This was two years before the U.S. Supreme Court ruled that every state must allow same-sex unions! Go LGBTQ!
If you've found your better half and you're in the LGBTQ community, you're probably wondering how you can get married and start planning your dream wedding!
---

Why do we celebrate Pride Month? Yes, the LGBTQ community knows how to have fun and really throw a party, but the reason Pride month is celebrated in June isn't because of the weather but because of
Gay rights in the United States dates back to at least 1924, the founding of the Society of Human Rights in Chicago by Henry Gerber. But the event that catalyzed the gay rights movement came in June 1969 in New York City's Greenwich Village, at the Stonewall Inn.
In the early hours of June 28, the police raided this popular place where young gay men, lesbians, bisexuals, and transgender people gathered, arresting the employees for selling liquor without a license, roughing up many of the patrons, and clearing out the bar.
Outside of the crowd, watched the bar's patrons being herded into police vans became enraged. Previous witnesses to police harassment of members of the LGBTQ community had just stood by. This time the crowd had enough and decided to mock the police by throwing coins and other things at them. This forced the police to barricade themselves in the bar and wait for backup. Meanwhile, hundreds of people rioted. Police reinforcements dispersed the crowd, and riots began outside the bar for the next five days. These Stonewall riots (also referred to as the Stonewall uprising) provided the spark that ignited the gay rights movement throughout the United States.
---

The process of coming out is different for every person. Some are lesbian, gay, bisexual, or transgender people and normally come out to friends and family at an early age, while others tend to live a more private life.
Coming out to yourself and/or someone you know can be incredibly scary. There is no right or wrong way to do it.
If you need support at this time:
Rockford's first LGBTQIA+ resource, The Liam Foundation:
Their focus is to encourage, assist, heal and empower our LGBTQIA+ community through respect, advocacy, and passionate hearts to promote thriving in society.
The Trevor Project is the leading national organization providing crisis intervention and suicide prevention services to lesbian, gay, bisexual, transgender, and questioning (LGBTQ) young people ages 13-24.
The National Suicide Prevention Lifeline is a national network of local crisis centers that provides free and confidential emotional support to people in suicidal crisis or emotional distress 24 hours a day, 7 days a week.
Crisis Text Line is free, 24/7 support for those in crisis. Text from anywhere in the USA to text with a trained Crisis Counselor.
(youth serving youth through age 25) (800) 246-7743
Both provide telephone, online private one-to-one chat, and email peer-support, as well as factual information and local resources for cities and towns across the United States.
Trans Lifeline is a trans-led organization that connects trans people to the community, support, and resources they need to survive and thrive.
Youth Information
Provides advice and assistance to runaways, including resources, shelter, transportation, assistance in finding counseling, and transitioning back to home life. NRS frontline staff will also act as advocates and mediators if/as needed.
The True Colors Fund is working to end homelessness among lesbian, gay, bisexual, transgender, queer, and questioning youth, creating a world in which all young people can be their true selves. True Colors United runs a database of service providers.
Addresses individuals coping with non-suicidal self-injury, including locally-based information, support, and therapy referrals.
HIV/AIDS Information
This hotline provides HIV and AIDS information for prisoners and accepts collect calls.
(800) 342-AIDS / (800) 344-7432 (Spanish) / (800) 243-7889 (TDD)
Other Hotlines
(800) 799-7233 (English and Spanish) (800) 787-3224 (TTY)
They also have an online chat feature available. Operating around the clock, seven days a week, confidential and free of cost, the National Domestic Violence Hotline provides lifesaving tools and immediate support to enable victims to find safety and live lives free of abuse. Highly trained, experienced advocates offer compassionate support, crisis intervention information, and referral services in over 170 languages.
Chemical dependency/mental health referral and information hotline for the LGBTQ community.
(800) 656-HOPE / (800) 810-7440 (TTY)
The nation's largest organization fighting sexual violence, RAINN also carries out programs to prevent sexual violence, help victims, and ensure that rapists are brought to justice.
We're asking the questions to increase awareness and understanding of the LGBTQIA+ community during Pride Month. Click here to read, "I'm Coming Out," stories from local individuals!