Pink Month with SwedishAmerican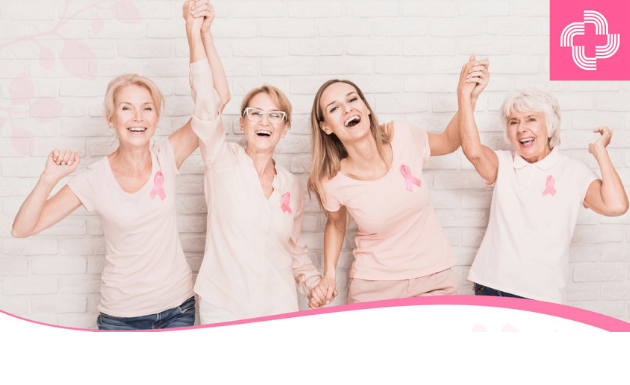 October is Breast Cancer Awareness Month. It seems that everyone has a story on how it has touched their life – either personally or through a friend or family member. B103 and SwedishAmerican Hospital- A Division of UW Health team up this month to share information on breast cancer detection, prevention, treatment, and local events that help in the campaign to find a permanent cure.
The Covid-19 pandemic has affected so much in 2020. We were able to catch up with Adrea Bennett, Supervisor of the Breast Health Center at SwedishAmerican, who filled us in on the steps they've taken to keep you safe. We were also able to get a little tour of their beautiful, state of the art facility…
Lisa Tyler visited with Dr. Lacey Stelle, Director of the Breast Program at the Breast Health Center at the Renaissance Pavilion. You will be amazed at the advances in surgical technology and how cutting edge SwedishAmerican Hospital is…
Lisa also spoke with Dr. Toman about SwedishAmerican's cutting edge 3D mammography room and screening guidelines. You won't believe how comfortable they've made the room…check it out below…
EARLY DETECTION FOR BREAST CANCER SURVIVAL
Are you the one in eight women affected by breast cancer in the U.S. this year? With early detection, your chance for a full recovery is much better – and SwedishAmerican is there to help.
 
At Swedes, they offer full-field digital mammography services at three convenient locations – with no appointment needed. We offer digital mammograms and, if necessary, a diagnostic mammogram or ultrasound the same day. Their radiologists are on-site several days a week to read the mammogram or ultrasound, so you can get your results before you leave. 
 
And because they know you're busy, there's no need for a mammogram appointment. You can walk in at your convenience between 7:30 AM and 2 PM Monday through Friday at their Medical Center in Belvidere, or between 8:30 AM and 4 PM Monday through Friday at their Stateline Clinic.
WHAT IS DIGITAL MAMMOGRAPHY?
Digital mammography has become the standard for the early detection of breast cancer. While compression of the breast tissue is still necessary, the quality of digital images is far superior to traditional film mammography. 
 
In full-field digital mammography, the electronic images are stored directly on a computer. The radiologist can immediately review the images on a high-resolution monitor. There is less exposure to radiation for the patient and no waiting time for film to develop.
WHAT IS DIGITAL BREAST TOMOSYNTHESIS?
Digital breast tomosynthesis is a type of mammogram that allows radiologists to look at several thin-layer images of the breast instead of one single image, as in standard digital mammography. A 3-D mammogram is taken in the same position as a standard digital mammogram, with about the same amount of time and radiation and compression of the breast. Studies have found that 3-D mammography helps radiologists find more cancers than standard digital mammogram. A 3-D mammogram also decreases the chance of having to come back for follow-up tests (false positive) such as another mammogram, ultrasound or biopsy. 3D/Tomo Mammography is available at their Rockford and Belvidere locations
BREAST ULTRASOUND SCREENINGS
The Breast Health Center also offers automated whole breast ultrasound screenings for women with dense breast tissue. 
  
Breast density refers to how much breast tissue a woman has. You can't tell your density by size or touch. Most women have both fat and fibro glandular (working part of the breast) tissue in varying proportions. Mammography and X-ray exam will tell you about your density and tissue makeup. Your density category will be on the mammogram report that is sent to your doctor. The Breast Health Center will let you know if a whole breast ultrasound is recommended.
 
Dense breast tissue is common and normal. Having dense breasts does not mean that you have cancer, but it may make cancer harder to find on a mammogram. Dense breast tissue may be one of the many factors associated with an increased risk of developing breast cancer. The most important risk factors for developing breast cancer are being a woman and growing older.
WOMEN WITH BREAST CANCER
For those with breast cancer, the center offers a team approach to treatment where physicians, nurses and other specialized staff discuss available options.
 
Their patients also benefit from the availability of a nurse navigator. Part educator, part personal assistant and part friend, nurse navigators provide a unique level of care to patients and their families. They sit in on patient consultations, expedite appointments and tests, help resolve insurance issues and let patients know what programs are available to them.
BREAST CARE LOCATIONS

Breast Health Center
1340 Charles Street, #201
Rockford, IL 61104
SwedishAmerican Medical Center – Belvidere
1625 S. State Street
Belvidere, IL 61008
Stateline Clinic & Immediate Care
4282 E. Rockton Road
Roscoe, IL 61073
Everyone can use a little healthy advice from time to time. That's why SwedishAmerican created Health Tips – blogs packed with great information to help you and your family stay well. Here you'll find our doctors and healthy living experts sharing advice in areas like nutrition, exercise, heart health, cancer prevention and more.