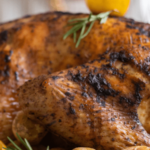 It's Thanksgiving time!  My favorite turkey recipe involves champagne.  Mostly because I get to make mimosas out of the extra. 🙂  We have a real good time in the Smerz kitchen!  Try this recipe, and have a very Happy Thanksgiving!
INGREDIENTS:
1/4 cup butter, softened
1 tsp. salt
1 tsp. celery salt
1 turkey (14 to 16 lbs.)
fresh sage and parsley sprigs
2 medium onions, chopped
1 1/2 cups minced fresh parsley
1/2 tsp. dried marjoram
1/2 tsp. dried thyme
2 cups champagne
2 cups beef consomme, diluted
1 tbsp. butter
1 tbsp. all purpose flour
DIRECTIONS:
Preheat oven to 325.
Mix first four ingredients. Place turkey on rack.  Rub butter mixture over outside and inside of turkey.  Roast 30 minutes.  Pour champagne and consomme. Roast uncovered until thermometer reaches 170-175, 2 1/2 – 3 hours, basting occasionally.  Infuse turkey with champagne, as well.  Let stand 20 minutes before carving.
Enjoy!