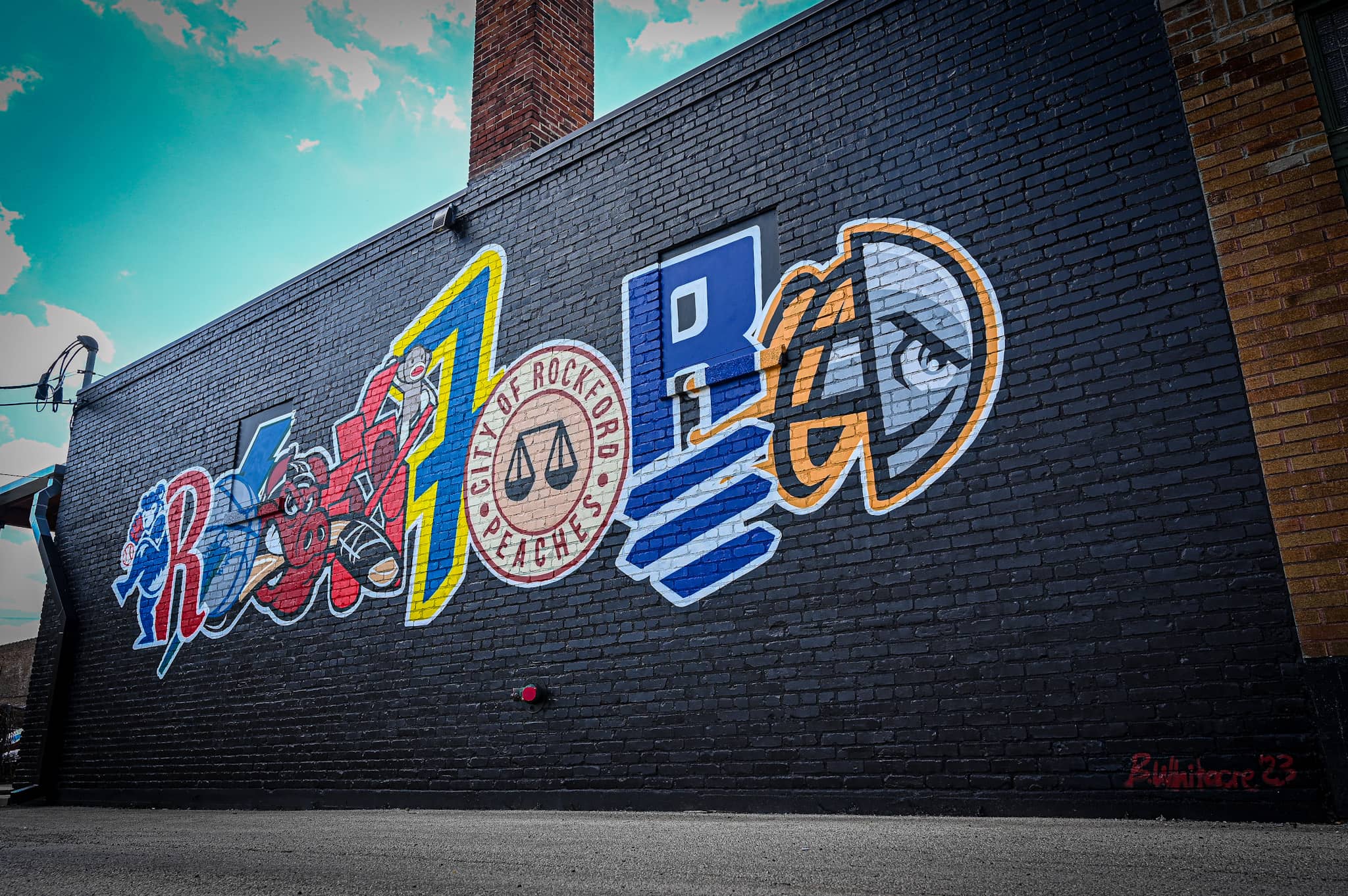 ROCKFORD — Andrew Vowles has seen a new energy outside of Ernie's Midtown Pub over the last few days as people line up to snap a photo of the new Rockford-themed mural that faces traffic along Seventh Street.
The mural, which was painted by Brett Whitacre and designed by Vic Rivera, pays tribute to the city's sports, industrial and art history by incorporating logos to spell out Rockford.
The new piece of public art has spurred Rockford pride, and now people want to wear it.
"The first question out of everybody's mouth is: Where can I buy a T-shirt," said Vowles, who owns Ernie's and tapped Whitacre and Rivera for the mural on his business. "The answer to them is: We're working on it."
Vowles wants to have a T-shirt of the logo and bumper stickers for sale at the pub, 1025 Fifth Ave. Right now, he's working on getting clearance from the Rockford IceHogs, Mrs. Fisher's and the Rockford Rivets to sell merchandise that incorporates their logos.
"I've actually talked to a couple of the organizations already, I've got clearance from one of them," Vowels said.
He's planning to donate the proceeds of sales to local charities.
"I haven't selected one yet, but there's a lot of worthy organizations," Vowles said.
He hopes to sell the shirt at the pub and possibly at Rockford Art Deli, the downtown Rockford retail shop that Ernie's previously collaborated with on a "I still call it the MetroCentre" shirt.
The design incorporates logos from the Rockford Cubbies, Lightning, IceHogs, Mrs. Fisher's potato chips, Symbol, Rockford Peaches, Rockford Rivets, Rockford Products and a sock monkey. Whitacre put the finishing touches on the painting Monday.
People who saw a photo of the mural on social media also quickly called for an opportunity to buy it.
"This is great, somebody print this on a T-shirt," Nick Bowers commented on our Facebook post.
"I'd buy it right now. Even an embroidered hat would be awesome," Jordass King wrote.
Rivera actually did a limited run of the design on a T-shirt last year for 815 Day, the unofficial Rockford holiday that happens on Aug. 15, or 8/15.
He and Mayor Tom McNamara wore the shirts for an event that kicked off the day's festivities at 8:15 a.m. It was available for purchase that day at Swap House 815 in Midtown.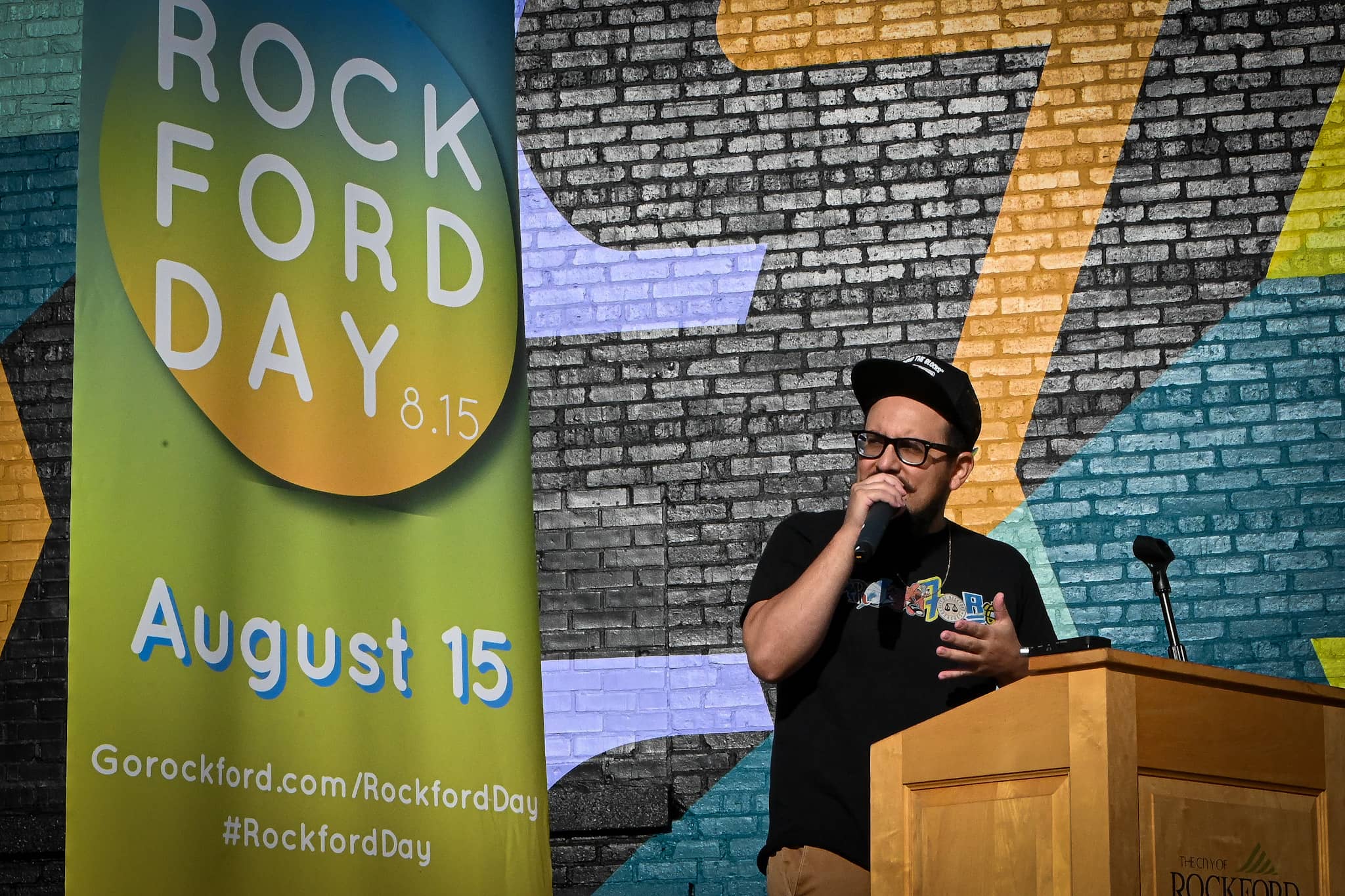 Rivera said he's happy to see Vowles moving forward with a plan to sell T-shirt after receiving so much positive feedback on the mural.
"It's been very heartwarming to see everyone connect with something on there, and there's nine things that people can connect with on that mural," Rivera said.
---
This article is by Kevin Haas. Email him at khaas@rockrivercurrent.com or follow him on Twitter at @KevinMHaas or Instagram @thekevinhaas