Business: Haute The Luxe Beauty House and Haute Bridal Official
Owner: Annētta McBain
Location: 406 Pleasant Street, Suite 210 Beloit, WI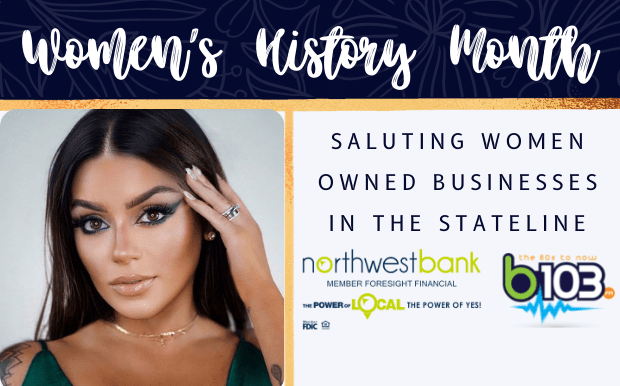 Tell us about yourself and your business:
My name is Annētta McBain. I was born and raised in Rockford Illinois where I met my husband Jordan and together we have three beautiful sons that are our world. I developed adult acne in my early 20s and grew a strong passion for skin care. I decided to leave my career in the radio industry that I truly loved so much to chase my dream of being in the beauty industry. While pursuing my certification as a licensed esthetician, I had to do a certain amount of hours of make up applications. I had never done make up on anyone other than myself and after doing just ONE Client, I knew I had found my calling.
It was a feeling I hadn't felt before. It was like the creativity inside of me was finally free. I started doing make up on my master bathroom toilet for friends and family and the rest is history. Five years later today and I am so blessed to say I am now a traveling celebrity make up artist and I am the proud owner of my very own award winning salons and boutiques. I opened up my first salon, Haute The Luxe Beauty House, in 2020 during the pandemic and just six months later, we were ready to expand into two locations. I am also the owner of "the collection cosmetics" clean beauty and tool line, my very own nonprofit organization called the "815 makeover movement" and also opened my very own couture bridal gown boutique, Haute Bridal Official.
What inspired you to start your business?
My family is my inspiration every day. I want to show them that with hard work, lots of faith and determination they can have the life of their dreams. I want to inspire other men and women around the world that it doesn't matter your age, where you come from, whether you're a parent or not, your past mistakes or your circumstances, you can absolutely have it all. It doesn't mean it's going to be easy, but it's so worth it.
What's it like being a female business owner here in the stateline?
I feel so incredibly supported as a female business owner in my community. We have so many inspirational women in our Stateline area and it's truly an honor to do what I love alongside them.
What advice would you give to a woman wanting to start her own business?
The biggest piece of advice I would give to anyone that is wanting to start up their own company is to keep your plans private. Not everyone will understand your dream and that's OK. It's not theirs to understand.
Who or what has been your biggest support system as a female business owner in the community?
My biggest support system is by far my family. My husband and children are my biggest cheerleaders and my mother is my rock. She was a single mom to us five kids and never let us go without. She worked her tail off as a daycare provider so she would be able to be home with us all while pursuing her degree. We never missed a single dinner or a prayer before bed and we were raised to treat others with kindness and respect. So much of the way she raised me is how I raise my boys. Being able to still be home with my children while I run all of my companies from home and never missing a single prayer or dinner is one of the greatest gifts I ever learned from my mother. She showed me if I want both I can have it with hard work and patience. She is truly the definition of breaking generational cycles, shattering glass ceilings and inspires me to be the best mother and woman I can be every single day.
What are the biggest challenges/advantages to being a female business owner?
I would say the biggest challenge of being a female business owner is overcoming the hate and cyber bullying from others in the industry. I have learned the hard way unfortunately, that not everyone is confident enough in themselves to be able to clap for others successes. Instead of being inspired or being motivated by another woman's achievements, they will instead harass and spread hate and harm to try and make you fit a narrative to themselves and others that feels better for their ego. Thankfully, with the help of God and a ton of self growth, I've truly come to understand, that behavior has nothing to do with me. Self confidence, happiness and success doesn't look like that. So instead of allowing their insecurities to hurt me more and bringing myself down to their level, I level I prayed myself out of many many years ago, I now feel compassion and forgiveness while they are on their healing journey.
With all of that being said I also feel an advantage of being an "emotional" and "sensitive" woman in an Industry that is so seemingly "anti" those characteristics. In my past "jobs" I did not feel safe or empowered to use my voice or feel my feelings, it was extremely toxic for my growth. Today, I feel so much pride that I can confidently say I have cultivated an environment full of empowerment kindness, support, gentleness and compassion all while simultaneously being bold, assertive and knowing my worth.