Business: Fab Dance & Fitness Academy
Owner: Fabbie Williams
Location: 115 N Wyman St, Rockford, IL 61101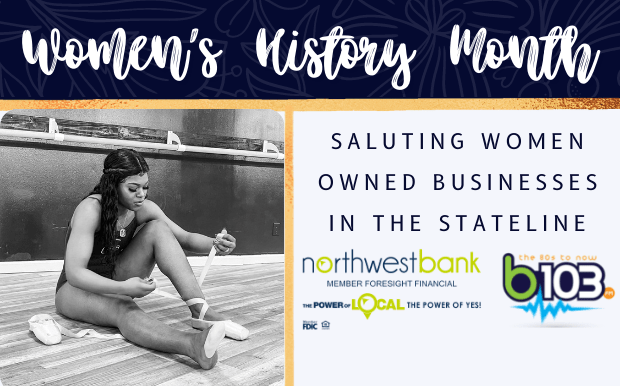 There wasn't an obstacle she couldn't overcome, if she wanted to make it to a dance class and couldn't find a ride, she would take the bus. Nothing was going to stop her from dancing.
Since she was three years old, Fabbie Williams was eager to learn, determined, and knew when she was older, she would own her own dance academy. In November of 2021, at age 23, that dream came true and she opened Fab Dance & Fitness Academy in downtown Rockford.
"I worked very closely as an intern with Jai McClendon Jones, she's the owner and founder of AREA, Atlanta's Resource for Entertainment & Arts, and that's where I got all of my training," Williams said in an interview with the B103 Morning Routine. "A lot of times people can't access ballet, or musical theatre, or tap classes, and making those affordable and reachable to my community was my main goal."
For Fabbie, it's all about the vibe! She created her dance and fitness academy so people can come to a place where they can feel confident and accepted, and a place for them to thrive.
"My biggest inspiration would be Jai McClendon Jones. I met her when I was in 5th and I just knew I wanted to be just like her," said Williams. "My biggest support system would be Chanel Edwards, and also my family. They have been a major support throughout my whole life."
This won't be the last we hear of the fabulous Fabbie Williams, she says one day she hopes to see Fab Dance & Fitness Academy in more states in the next five years.
Fab Dance & Fitness Studio teaches dance to children ages 3 and up, as well as adult fitness classes. If you're interested in getting your kids signed up or taking a dance class yourself, click HERE.
Listen to the full interview with the owner of Fab Dance & Fitness Academy below: