About this feature
March is Women's History Month and Northwest Bank, B103 and the Rock River Current are saluting women owned and operated businesses right here in the Stateline. You can hear these women's stories on air and get to know them — and their businesses — through videos, pictures and more on our social media pages and websites.
It is brought to you by Northwest Bank: The power of yes, 50 years in the making.
Business: Lawn Care by Walter
Owner: Debbie Walter
Location: 4235 Perryville Road, Chery Valley (Note: Moving to Meridian Road later this year)
Contact: 815-332-9544
On the web: lcbwalter.com
About the business: Lawn Care by Walter, which has been in business for 36 years and will soon expand to a new location, is a total site management company. They handle everything from fertilization and tree care to mosquito abatement, landscaping and hardscaping, snow removal and other services.
"The most pride that I take is our customer service," Walter said.
What's it like being a female business owner in the Stateline? 
"It's different because the business that we're in is a different industry compared to a lot of other industries where women work in there. I'm constantly learning new things. I have great employees who help me get through the day. They teach me a lot. It's challenging at times but it's exciting as well."
What advice would you give to a woman interested in starting her own business? 
"Yes it can be challenging. But there's a lot of women out there that have the time (and) the talent. I encourage them to try it."
(story continues below photo)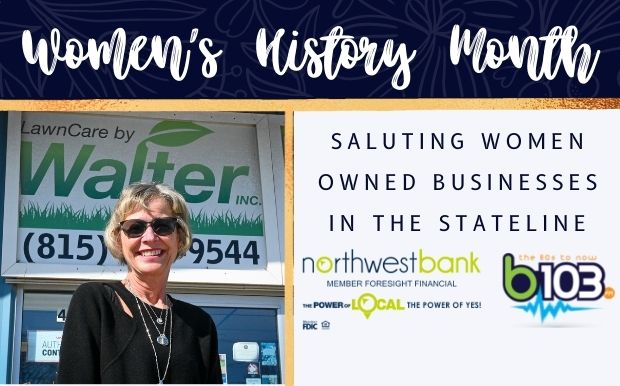 What has been your biggest support system as a business owner? 
"Other organizations that I work with. Other women in those organizations, and I would say my employees as well. They give me a lot of encouragement and they give me a lot of hope."