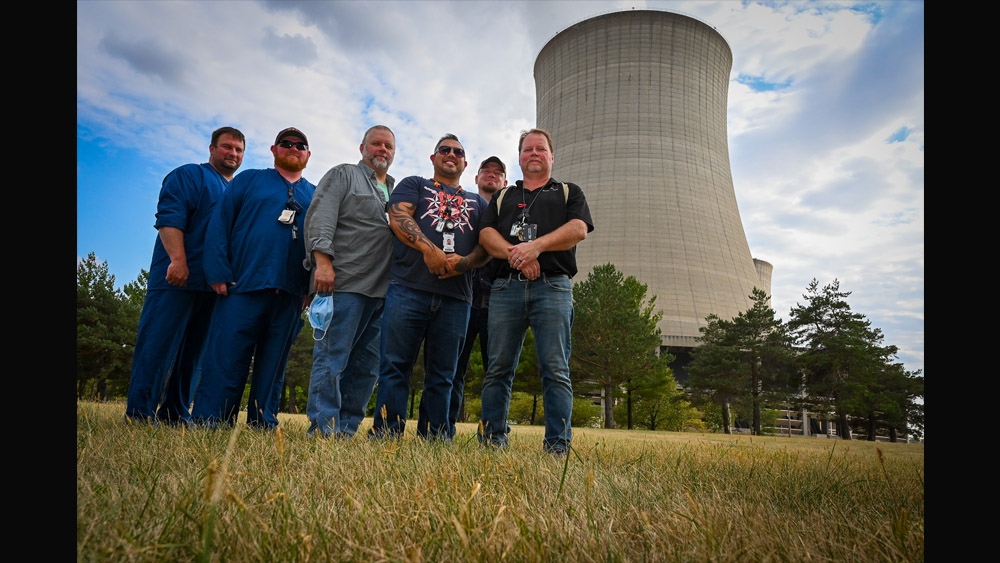 BYRON — The culmination of more than a year of uncertainty and anxiety for Byron nuclear plant workers came at 1 a.m. Monday, when the Unit 1 reactor was shut off for what employees feared could be the last time.
All eyes turned to Springfield in hopes lawmakers would approve last-minute legislation to save the jobs of the 700-plus employees at the plant.
"They didn't know if they were going to put new fuel in the reactor or if they were going to take all the fuel out of it," said Terry McGoldrick, president of IBEW Local 15. "Imagine that, when you can't tell your family whether you were going to have a job or not."
Parking lots were nearly empty at the normally bustling Byron Generating Station, and workers were glued to their phones waiting for an update that could save their jobs.
"We were on edge," said Alex Masters, a mechanical maintenance worker who has spent 16 years at the Byron plant. "Everyone was watching their phones for new news, or seeing if your friends or family were sending you text messages saying they heard this or heard that."
A half-day after the unit went offline workers got the news they had awaited for 13 months. The state Senate voted 37-17 Monday afternoon to pass a bill that included subsidies to keep the Byron and Dresden nuclear plants open, and Gov. JB Pritzker signed it on Wednesday.
A feeling of dread that had hovered over workers evaporated like water vapor from a cooling tower. Finally, 18-year Byron plant mechanical maintenance worker Mike Stewart said, "I could sleep a full night's sleep."
Stewart was among six employees with a combined 112 years experience from the Byron and Dresden plants that spoke with the Rock River Current about the angst and ultimate relief they felt while waiting for their jobs to be saved.
Exelon, the parent company of the two plants, said in late August 2020 it would close the plants without legislation that helped it compete with the cheap power produced from shale gas and other sources. Byron was set to close this month and Dresden in November.
"I started saving money and planning for the worst-case scenario but hoping for the best," Masters said. "There were a lot of sleepless nights and a lot of extra stress on everyone."
This week, the employees are sending thanks to the lawmakers for their action and for the community that rallied to save their jobs.
"From the bottom of our heart, thank-you," Masters said of supporters, who ranged from local government officials to community members and business owners.
The legislation is intended to put Illinois on a path to carbon-free energy by 2050. Key for Byron was $695 million spent over five years to subsidize Exelon Corporation's nuclear plants.
Critics of the bill fear it could prove too costly for ratepayers and contend that the state could see electrical supply issues once coal and natural gas plants go offline.
For the Byron community, it's heralded for saving a plant that contributes an estimated $487 million to the regional economy. The loss of 717 employees at the Byron plant would have rippled through to affect 2,300 jobs, according to an economic impact study from Northern Illinois University.
Tony Taylor, a senior mechanic and union steward who has worked for 25 years at the Dresden plant, has worked in Byron this week as the company works on refueling the Unit 1 reactor, a process that can take roughly two weeks. He and James Glidic, a fellow union steward and electrician for 29 years at Dresden, said workers performed at a high level despite the uncertainty of the past year.
"They did a great job, but you could see the pain, the uncertainty," Glidic said.
The workers deserve praise for their efforts during a difficult year, Goldrick, the IBEW Local 15 president, told people gathered Friday at a news conference to publicly thank supporters of the legislation.
"These folks at the plants, I want everybody to understand what they've been through this summer," Goldrick said. "They worked short-handed, they picked up additional shifts, they worked additional overtime, and quite honestly they didn't even know if they were going to have a job or not."
This article is by Kevin Haas. Email him at khaas@rockrivercurrent.com or follow him on Twitter at @KevinMHaas.