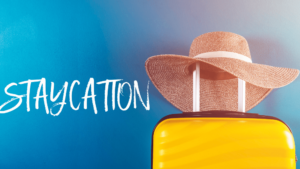 3 out of 4 Americans say they are planning some sort of a vacation after last year's pandemic. Are you hitting the road or are you planning a staycation?
So what does staycation actually mean? Well according polls, over half of people believe it's  when you stay somewhere else in your city or town, like a hotel or Airbnb. Some people even said you can leave town as long as you're not that far from home, it still counts.
When it comes to any type of vacation, there's only one rule. NO WORK! Follow that rule and you can vacation however you want!