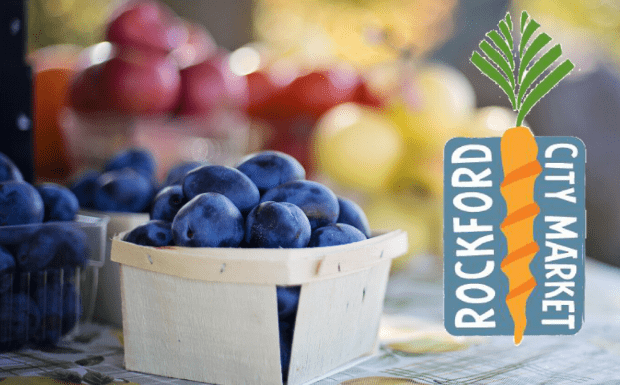 Rockford City Market is back and bigger than ever! Now through September, presented by Mercy Health, every Friday in downtown Rockford from 3:30p until 8:30p – with B103!
Buy from local farmers and vendors selling fresh produce, flowers, honey, dog treats, gifts, and more. Stroll the expanded market footprint with tasty beverages from Stateline breweries, sample delicious eats from area food trucks…and don't forget the family, because this year we've teamed up with the Rockford Park District to bring you the all-new "Time 2 Play" activity zone!
Here's what to expect this outdoor Market season…
NEW VENDORS
Twenty-four new vendors will be joining the lineup at the market in all categories: prepared food, farmers, treats, and handcrafted items. There will be a total of 54 vendors starting on opening day. New this year are & C and local business vendor spots inside the Market Hall adjacent to the alley. New vendor Tisha Hannah of T & C Cooking Creations offered tasting samples of her menu.
"Minority and women-owned small businesses have played a major role in the market since its inception, and this season our vendors are 61% women and minority-owned." Said Peter J. Provenzano, Chairman of the Rock River Development Partnership.
Larger Market Footprint
The Market will expand its boundaries to accommodate the social distancing required to keep vendors and guests safe and comfortable. Vendors will be placed with 6′ between the booths, and the seating areas will be appropriately distanced in several locations. Local businesses will also be participating outdoors in front of their stores with food, drink, and activities.
"Rockford City Market has been home to many small, local entrepreneurs selling their goods and thousands of residents looking to support local businesses over the past 11 years, and I am thrilled to be able to help kick off another season," says Mayor McNamara.
"With Rockford beginning to open back up after strict COVID restrictions for more than a year and more downtown businesses participating, we expect larger crowds and have worked with City Market to expand the footprint of the event. I hope the community will join me in supporting our local businesses during this year's market!"
Check out the full list of vendors HERE.
2021 Rockford City Market Vendors:
Cantina Taco
Coco's tamales *NEW*
Downtown Fancy Franks
Guzel *NEW*
Lulu's Roasted Corn
Magic Crepes
T & C Cooking Creations *NEW*
T & TW Till's Catering *NEW*
Thai Jasmine Rice & Noodles *NEW*
TNT Funnel Cakes *NEW*
Vintage @ 501
Wok' n Roll
Woodfire Pizza
ARTISTS, MAKERS, BAKERS, & GROWERS:
4 Sisters Farm
Bear Moon Soap
BL Wellwood
Candy Cloud Co.
Cheese People
Craft + Foster
Eclectic Jewel
Eight Fifteen Capital *NEW*
Elixir Juice Co.
Fire Department Coffee
Fresh Life Organics *NEW*
Green Street Microgreens *NEW*
Hughes Happy Hives *NEW*
Inspired Life 815 *NEW*
LaMonica Beverages
Louis Leathers
Luxury Love Candles *NEW*
Midwest Gourmet Garlic
Nuts to Go Chicago *NEW*
Pepsi
Pewter Dragonfly
Pig Minds Brewing Co.
Pine Hill Farm *NEW*
Prairie Street Brewing Co.
Quixotic Bakery
Raines Honey Farm
Rockford Brand Furniture *NEW*
Ruccis Nuts
Shady Tree Farm Market
Soap of the Earth
Sunbloom Co. *NEW*
Synergy Collective
Triple T Creations *NEW*
Unstated Apparel
Very Cute by Vanna
Velvet Robot Coffee Lab
Why Envy Boutique
William Boyle Chair Maker *NEW*
Zachi Chocolates *NEW*
INSIDE THE MARKET HALL
SPoRt Makeup *NEW*
J's Social Cafe *NEW*
Meg's Vintage 111 *NEW*
D.A.S Flava *NEW*
Smiley's Vintage *NEW*