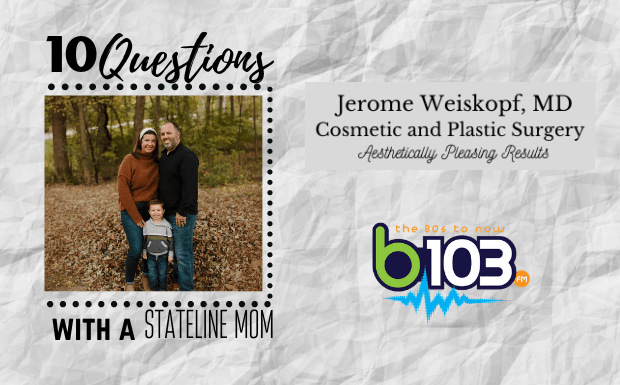 Name: Katie
Age: 35
Town: Roscoe
Marital Status: Married 5 years
Kids: Asher 3 and baby boy #2 due in June
Do your kids have any special needs? no
Occupation: Birth to 3 Parent Educator with the Harlem School District
1. If you could go back to one part of your kid's life and enjoy it all over again…what would it be?
Honestly I cherish the summer with Asher since I am off and we can explore. I would go back to the summer before COVID and do even more knowing the next summer would be much different
2. Was it difficult trying to get pregnant?
We were very lucky to conceive very quickly
3. Do your kids do chores? If so, what? Do they get an allowance?
Asher puts forks and napkins on the table for dinner, puts the dishwasher pod in, and helps feed the dogs
4. Do you make time for date nights?
Definitely! We are lucky to have both parents in town and take advantage of that. It's so important to continue connecting and not get lost in just being parents.
5. What's one "mom chore" you would forever outsource if you could?
Anything that involves throwing up!
6. Do you have any picky eaters? How do you deal with it?
Yes! Making things into fun shapes with cookie cutters, serving things in muffin tins instead of a plate so it seems like more of a snack than a meal.
7. Do you daydream about being a stay at home mom?
I give all the credit to full time stay at home moms. I enjoy my child but need adult interaction in my life. I remember going back to work and being excited to sit down and eat an uninterupted lunch.
8. What's the one thing you would have done differently so far with your kids?
RELAX in the beginning! Don't google things, don't follow a schedule that doesn't work for you!
9. What's your biggest worry right now?
The transition going from one child to two. There are times I'm so excited and then times I'm crying thinking I have ruined my son's life.
10. Describe the state of the inside of your car right now…
My husband sometimes cringes when he opens the door! Definitely a coffee mug, empty La Croix can, disposable masks, wipes of all kinds, steering wheel lunch tray (this is not a joke, I eat lunch everyday in my car-thanks Covid, definitely snack crumbs of all sorts, and a random baby shoe that got out of the goodwill bag and I haven't thrown away, it's been about 6 months!
Click below to read about more moms and to sign up to be featured next with a chance to win $100 off Botox Cosmetic from Dr. Jerome Weiskopf M.D.