Love is in the air, so last night, my sweetie and I crafted these adorable Valentine's Day gnomes! I got the idea from one of my friends who posted this craft that she did with her daughter over the weekend, so I thought I would craft some of my own!
These little guys require no sewing, and the supplies are inexpensive and easy to find. Not only is this great for Valentine's Day, but it also works for any holiday or day of the year. You can dress your gnome up in whatever color/patterned sweater and hat you want to.
Step One, Supplies:
Fluffy socks
White crew or tube socks
Rice (a lot of it! I found a big bag at Aldi's for $4!)
Clear small rubber bands
Faux fur for beard (can be found at local craft store)
Fabric patches (for hat decoration) *optional- but totally worth it!
Festive ribbon (for hat decoration) *optional- again, worth it!
Tools you will need to help make your gnomes:
Hot glue gun
Scoop
Funnel
Exacto knife
Drinking glass
Step 2: Pour a glass of wine. Some might beg to differ, but this juice helps me be more creative!
Step 3: First, take a simple crew sock and fill it with rice. I took a drinking glass and put the sock over the rim of the glass for easier filling. You can take the sock out of the glass once it's been half-filled, and continue to fill it more with a funnel.
Step 4: Close the sock with a clear rubber band, twisting it all the way. Next, you want to grab in the middle of the sock to create a nose. The idea of this is to isolate a bit of the sock with the rice and use a rubber band to close it.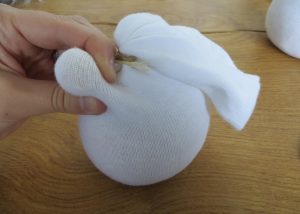 Step 5: Take one of your fluffy or decorative socks and cut just above the heel. This is going to be his sweater. Put the sweater over the bottom body of your gnome, right under the nose, and keep it in place with your hot glue gun. This next part can be very tricky. Measure out how long and wide you want the beard to be. Use your Exacto knife, don't use scissors because you will trim the fur on the outline of the beard. I made sure mine was triangularly cut out. You only need to glue the top edge of the faux fur.
Time for the finishing touch! I used a little bit of rice in my gnome's hat to keep it propped up. Take your fluffy sock and fill it partially with rice. I turned my gnome upside down and glued it all along the edges, to where it would look like the hat is covering the gnome's eyes. Finally, it's time to decorate! You can even make braids instead of a beard, add buttons, you can glue on cute Valentine's heart, or flowers, be creative! The possibilities are endless for the love of gnomes!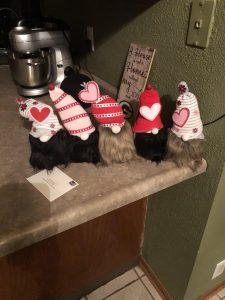 Voila! Your gnome is finished! If your kitchen table is a mess, then you did it right! Once you get the hang of it, you will see it's actually really simple and doesn't take up a lot of your time. They not only make great decorations but awesome gifts as well.
~Chelsea