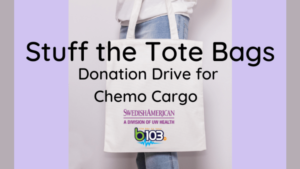 Emily Tropp is the Public Relations and Community Engagement Specialist at SwedishAmerican Health System. In December of 2019 she was diagnosed with stage 4 ovarian cancer. While fighting back tears on her first day of chemo, she was gifted a tote bag courtesy of Swedish American Foundation's Chemo Cargo program full of personal and care items. Emily told us how much this little gesture helped to ease her fears and made her feel cared for on such a scary day. Click below to hear Emily's incredible story and learn how important Chemo Cargo is to the Stateline area.
Click HERE for all the info on b103's "Stuff the Tote Bags" donation drive.
Click HERE to donate funds to help keep Chemo Cargo going.