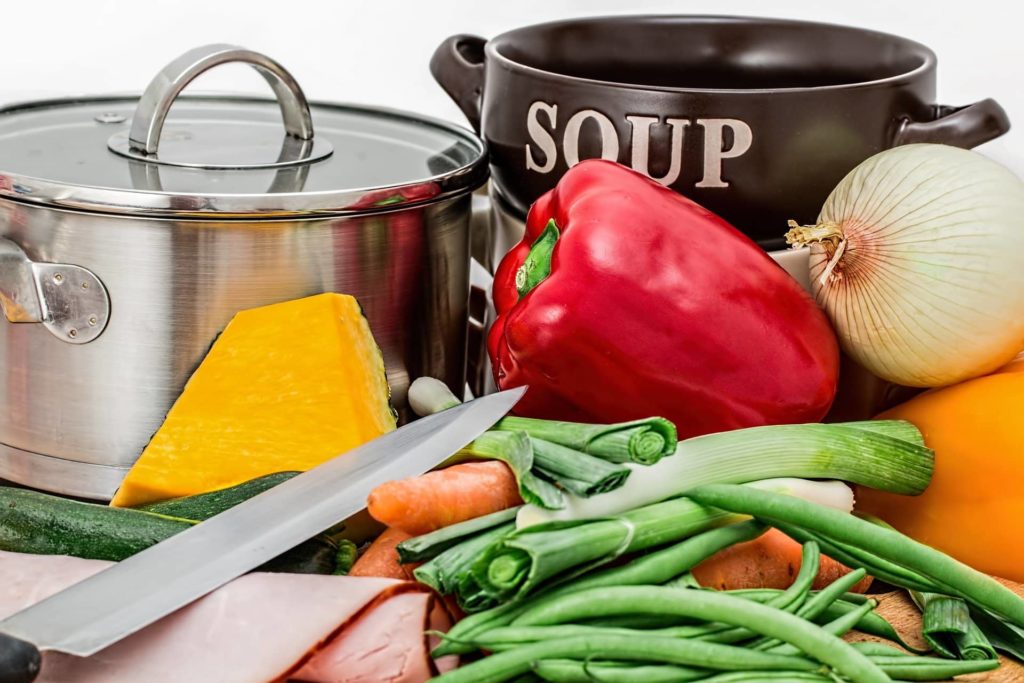 It's fall, and you know what that means? Soup season! What better way to use your slow cooker than to make a hot bowl of homemade soup. With just a few simple ingredients and about 15 minutes of prep time, you can have a hearty, healthy meal that the whole family will enjoy.
ITALIAN WEDDING SOUP
While this recipe isn't in the traditional style, I hate making tiny little meatballs and have instead adapted the recipe to add just a tiny bit of meat to the mix instead. I have used both sausage and hamburger in this recipe and they are both great. You can also substitute ground turkey or chicken.
INGREDIENTS
1 lb Ground Beef or Mild Italian Sausage
8 Cups Chicken Broth
3 Large Carrots (peeled / diced)
2 Stalks Celery (finely diced)
1 Medium Onion (diced)
1 Handful Fresh Italian Parsley (chopped)
1 Tsp Dried Oregano
1 Tsp Garlic Powder
1  8 oz bag of Spinach (washed / chopped)
1 Cup tiny dry pasta (Acini di pepe, ditalini, etc.) – cooked and set aside
¼ Cup Freshly Grated Parmesan Cheese
In a large skillet, brown the meat just until cooked through. Add meat and drippings to slow cooker. Add in all remaining ingredients except for the pasta and Parmesan Cheese. Cook on low 5-8 hours depending upon your cooker. Add pasta and parmesan cheese and stir to incorporate cheese. Serve with a warm roll or crusty bread. Serves 6-8.
BEEF BARLEY "STEWP"
I love beef barley soup and this is my favorite because it's thick like a stew but still technically a soup. You can modify this recipe to omit the beef as it's chock-full of veggies or substitute chicken instead
INGREDIENTS
1 lb Beef Stew Meat (I dice it finely when I get home from the store or ask your butcher to do so)
4 – 6 Cups Beef Broth (I usually use 2 boxes of broth)
3 Stalks Celery (diced)
3 Large Carrots (diced)
1 Medium Onion (diced)
1 Can Stewed Tomatoes (with juice) – I usually cut them up because they can be kind of big pieces.
1 Tbsp Worcestershire Sauce
¼ Tsp Dried Thyme
1 Bay Leaf
¼ Cup Red Wine (optional)
1 Cup Quick Barley (Pre-cooked and set aside)
It's usually best to brown your meat ahead of time to give it more flavor, but since this is a slow cooker recipe, it's not necessary. Add all ingredients to slow cooker with the exception of the barley. Barley is a grain and will absorb the liquid and thicken your "stewp" so I always wait until about an hour before we are ready to eat to add it. I use quick barley and follow the instructions on the package, cook it and set it aside until I'm ready to add it to the dish. You can also omit the barley and use quinoa or lentils instead. Serve with crackers and some prepared horseradish for a little extra kick.  Serves 6-8.
BEAN AND HAM SOUP
This is one of my all time favorite recipes for fall and winter. This hearty soup is great for lunch, a snack or dinner. I use a ham with the bone in it for additional flavor. You can also use ham base, but I find that most soup bases are loaded with salt! Ham is salty enough without adding more salt. Ask your butcher about a ham soup bone. They can be less expensive than buying a whole ham!
INGREDIENTS
1 Large Ham Bone (with meat)
1 Ham steak (diced) or Leftover Ham (from the bone)
4 – 6 Cups Chicken Broth (you want to be sure the bone is covered in liquid)
3 Stalks Celery (diced)
3 Large Carrots (diced)
1 Medium Onion (diced)
3 Cans Navy Beans or Great Northern Beans (do not drain)
Salt & Pepper to taste
Place all ingredients into slow cooker except for beans and additional ham pieces. You want the flavors of the ham and vegetables to mix together and to slowly cook the remaining flavors out of the ham bone. Cook on low for 6 hours. Carefully remove the bone and any fat or cartilage that may be present. Add ham pieces and beans (do not drain). The liquid from the canned beans will help to thicken the soup. Add a few dashes of hot sauce before serving and of course, salt and pepper to taste. Serves 6-8.
SAUSAGE, SPINACH, TORTELLINI SOUP
I had this soup at a restaurant once and it was so good that I begged the chef for the recipe. Believe it or not…it only has 7 ingredients!
INGREDIENTS
4 Cups Chicken Broth
4 – 6 Italian Sausage Links (Hot or Mild Works)
1 Clove Garlic (Minced)
1 Medium Onion (chopped)
2 Cups Frozen Cheese Tortellini (Thawed)
1  8oz Pkg Fresh Spinach (rinsed and torn into pieces)
2 Tbsp Olive Oil
Fresh Parmesan for Topping Soup (Optional)
In a large skillet, combine olive oil and sausage links. Cook over medium heat until sausage is cooked through (turning at least once) and juices run clear. Remove from heat and slice sausages diagonally.  Place all ingredients in slow cooker and add the sausage slices. Cook on low for 4 hours. Add fresh parmesan cheese before serving if desired. Serves 6-8.
STUFFED PEPPER SOUP
If you like stuffed green peppers, but don't like the hassle of putting them all together, then why not try this soup! It's got al l the same ingredients that you love, but without all the hassle. Best part, it cooks itself in your slow cooker!
INGREDIENTS
6 Cups Beef Broth
2 lbs Ground Beef (Substitute Turkey or Chicken)
2 Cans (15oz) Tomato Sauce
2 Cans (15oz) Petite Diced Tomatoes
2 Medium Green Peppers (Chopped)
1 Medium Onion (Diced)
1 Tsp Garlic Powder
2 Cups Rice (Cooked / Set Aside)
In a large skillet, brown ground meat over medium heat. Combine all ingredients, except for the rice, in the slow cooker and cook on low 4-5 hours. Add rice and heat through (about 20 minutes). Do not add the rice until this point or it will disintegrate. Serve with cornbread or roll. Serves 6-8.
Have a favorite soup recipe that you'd like to share? Let us know in the comments below!