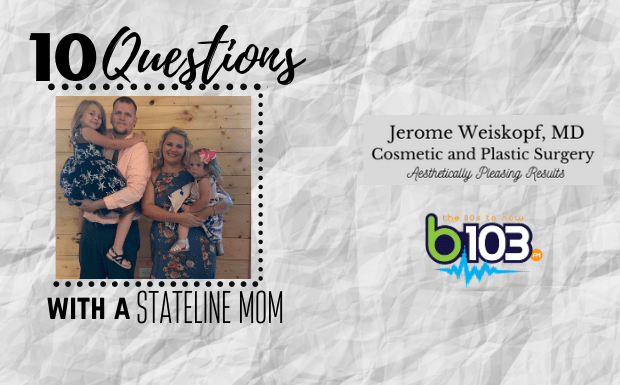 Name: Risa
Age: 31
Town: Winnebago
Marital Status: Married… Happily most days! 😂
Kids: Willa 2, Palmer 6
Occupation: Nurse Manager
1. How are you feeling right now?
Changes day to day! Happy to have some semblance of a routine with my oldest back in school and my husband back to work full time, but worried about the changes day to day with COVID. At the current moment I'm enjoying the wonderful weather during lunch!
2. If you could go back to one part of your kid's life and enjoy it all over again…what would it be?
Ugh the squishy newborn time with my little one she was so easy! With my oldest I'd love to go back to the time when she was still my only child. We still get lots of time together but our one on ones with just her and me was priceless.
3. Was it difficult trying to get pregnant?
For number one yes! We tried for years all the way to IVF. She has literally been difficult since before day one! Number two no problem! And she's been easy ever since lol
4. Do your kids do chores? If so, what? Do they get an allowance?
We don't have scheduled chores but we do expect everyone to chip in when we are doing things. The girls know if they help the faster they get time with mom and dad.
5. What's one "mom chore" you would forever outsource if you could?
Floors… all the time. I hate floors. Carpet hardwood doesn't matter I hate them all. 😂
6. Do you have any picky eaters? How do you deal with it?
Oh yeah. My oldest is the pickiest!!! We just try to lead by Example. My husband is also very picky. We try to not focus on foods "taste" but how the food helps us grow. That being said she eats a lot of chicken nuggets and hot dogs 😉
7. Do you daydream about being a stay at home mom?
No. I love my job. My job helps me be a better mom because when I'm at work I get to be my adult independent version of myself and when I'm home I get to focus on being a mom!
8. What's the one thing you would have done differently so far with your kids?
I wish we were better about following through with consequences from a very young age. We are doing better now and the two year old is benefiting…I just wish we would have with the oldest!
9. Are you content with how your life is now?
So blessed and content. My Husband and I have been through a lot in the last 13 years and we now know enough to just enjoy and love the good times! The good times don't last forever and hard times will creep up so we make the most of it when we can!
10. What are you currently obsessed with?
Forever obsessed with Harry Potter and my sweet kitty Albus!
Click below to read about more moms and sign up to be featured next…