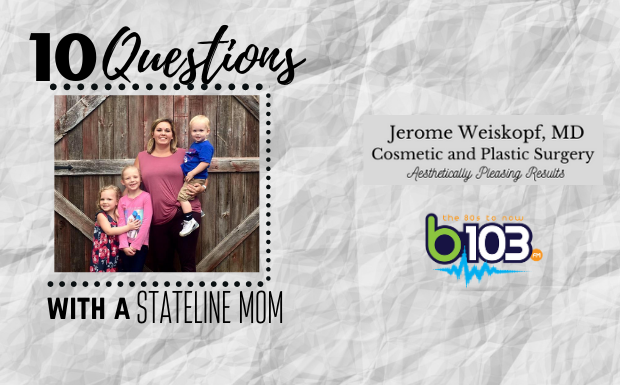 Name: Terissa
Age: 31
Town: Loves Park
Marital Status: In a relationship
Kids: 2 daughters- Rilyn age 8 & Skyli age 5. 1 son-Jamesyn age 3
Occupation: Office Manager and Executive Assistant at a local dartboard manufacturer
1. How are you feeling right now?
I am feeling like I am ready for life to return to somewhat normal. I miss the ability to freely go and do things with my family without having to put so much additional thought and effort into it, like we did before this pandemic hit.
2. If you could go back to one part of your kid's life and enjoy it all over again…what would it be?
If I could go back to the day of each of their births, I absolutely would. There is nothing more blissful than bringing a new life into your family.
3. Was it difficult trying to get pregnant?
I did not have any difficulties getting pregnant. All three were blessed surprises!
4. Do your kids do chores? If so, what? Do they get an allowance?
My kids are responsible for cleaning their rooms. My oldest is in charge of feeding the dog and making sure he has water. My oldest two also help hang and fold laundry. No allowance is given on a regular basis, but completing chores or other things when they want to earn money is an option.
5. What's one "mom chore" you would forever outsource if you could?
Laundry. I feel like I can never keep up with it. I really despise sitting and matching socks!
6. Do you have any picky eaters? How do you deal with it?
My oldest and youngest are my picky eaters, They both refuse most things that have nutritional value. I continuously try to get them to try new things, but we mostly just stick to their staple items to feed them.
7. Do you daydream about being a stay at home mom/working mom?
I have been a working mother since day one, working up to delivery and returning shortly after (with baby in tow), so I often daydream about being a SAHM and what it would be like. Although, to be honest I appreciate being able to show my kids what a hard working and capable Momma they have, somone who can handle a workload and a home life at the same time!
8. What's the one thing you would have done differently so far with your kids?
I would have waited until I was older and more financially stable to have my children. Having 3 children before I was 29 made things quite a bit more challenging, but I don't 100% know if I would change it or not if given the chance.
9. If you could be instantly transported anywhere right now…where would you go?
I would find myself somewhere on a sandy beach with a frozen "Momma juice" cocktail in hand!
10. Are you content with how your life is now?
I am very content with my life. Things seem to be moving in a positive direction. I have a wonderful soulmate, Kyle, my three beautiful kids, an awesome 3-legged dog, a great job, and so much more to be grateful for.
Click below to meet more moms and sign up to be featured next…