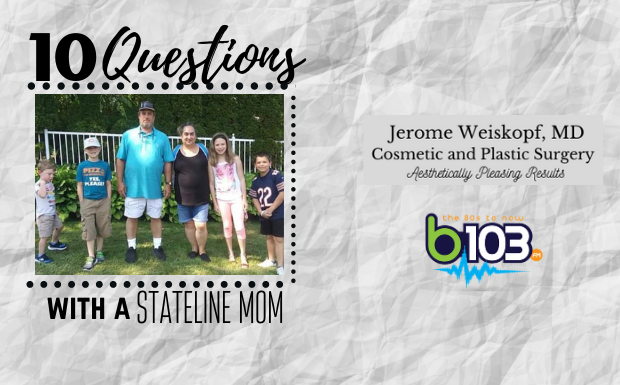 Name: Lori
Age: 53
Town: Roscoe
Marital Status: Married
Kids: Dustin 36. Ryan 35. Victor 34. Stephanie 25. Grandkids Haylee 11. Christian 9. Michael 8. Benjamin 3
Occupation: In between jobs
1. If you could go back to one part of your kid's life and enjoy it all over again…what would it be?
When they were little and you could bribe them with a toy to do something.
2. Do your grandkids do chores? If so, what? Do they get an allowance?
Yes kinda..My grandsons will clean the litter boxes and water the plants for money.
3. Do you have any picky eaters? How do you deal with it?
Yes Hayee will eat burgers with lettuce and pickles. Won't eat hot dogs or brats. Cooking out is a challenge! The boys no ketchup or mustard.
4. What's the one thing you would have done differently so far with your kids?
Nothing. I feel I have and are preparing them for the world.
5. If you could be instantly transported anywhere right now…where would you go?
I love Lake Geneva for the water the food…
6. What are you currently obsessed with?
Cooking since we have been on lock down. I love the website "spend with pennies." I have been imitating the dishes they make- soo good!
7. Anything you are looking forward to at the moment?
When we can get together with friends!
8. Describe an average day in your life…
Depends. I watch netflix or hulu. If I'm ambitious i will work on my crafts.
9. Are you content with how your life is now?
No. I'm trying to get a job at the blood bank (dream job 1.) Dream job 2 is Coroner's office.
10. Was it difficult trying to get pregnant?
No!
Click below to read about more moms and sign up to be featured next…