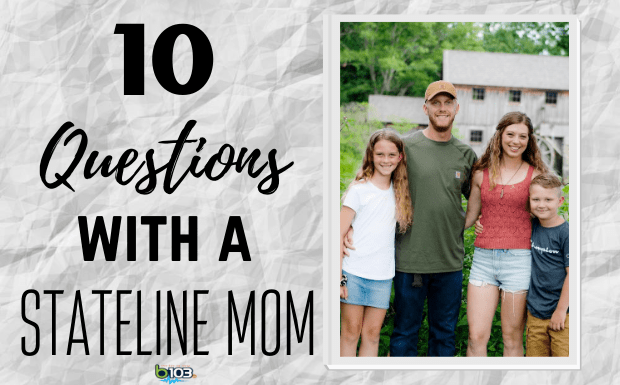 First Name: Ashley
Age: 32
Town: Davis Junction
Marital Status: Married 9 years together 14
Kid's: Emma (10) Hunter (7)
Occupation: Owner of Bellator Fitness, I am a personal trainer and certified nutritionist!
1. Do you have a "vent buddy" when you are about to lose it?
Yes, don't we all? Mattering on what we're about to lose it about? But to be completely honest my number one vent buddy would be my husband; we have spent nearly half our lives with each other it's more than marriage it's a friendship so he hears it all… My second would definitely be my two best friends Cristie and Kelsey, we have all been friends since childhood.
2. Do you make time for date nights?
Yes, absolutely…it's very important to spend nights out together. We normally would plan one night out a month to see someone playing some sort of music. It's our number one thing to do together. But we also have breakfast and lunch dates when the kids are in school. When you have kids you get creative, it doesn't always have to be a night out.
3. What's one part of parenting that you're going to do differently than your parents did?
Listen to them, and actually get involved in what they are doing at the time…. if it's them playing Fortnite then play a game with them even if you have no idea what you're doing, it's the fact you are actually trying to play with them.
4. What's the oddest item in your purse right now?
A mini toy Ninja and a wolf of Hunter's… I was kind of surprised not to find a rock those are this favorite to collect.
5. Do your kids have smartphones?
Yes and no, if that makes any sense…. they have time limits and have to finish homework before playing a game. Both my children play Xbox, Nintendo, and PC games.  They do not have smartphones, however with all the new restrictions with COVID we are considered it just due to sport practice pick-ups and drop-offs, times are changing, and sometimes even if I don't like the idea of a phone their safety is my number one concern.
6. If you get a night alone with the TV, what are you watching?
Something to do with cooking… I love to cook… my dad was a chef, I grew up in kitchens. The kitchen is one of my many happy places! If I'm home you can find me in the kitchen.
7. What's something you totally "get" now that you are a mom?
Money doesn't always grow on trees saying…I remember my mom always saying that when we were at the store, as we go isle to isle I would keep asking for things… now my children do it….sometimes they find the strangest things they just have to have, and you can clearly tell it's a complete waste of money. You end up buying it anyways and normally it's either broken or lost by the time you even get home. Point being I get why she would say no now that I am a parent.
8. Do you get any "Me" time? If so, what is it?
Yes, absolutely my personal workouts are my time. It's one of my favorite parts of my day. I also like to spend time to spend with my girlfriends.
9. If you work out of the house, what's your daycare plan?
Daycares are full right now. I have no choice but to stay home with the kids. Our district is only in the classroom setting 2 times a week, the other 3 days will be E-Learning. Right now I teach workout classes at the park down the road from my house 3 days a week when my husband is able to be home with the kids, otherwise, they just tag along with me to class.
10. Fill in the blank: "I need more ______ right now."
Clients! During, COVID decided to branch my personal training business and offer group workout classes at the local park in Davis Junction. I wanted to be able to offer a safe space for locals to come to get a quick workout in with the encouragement of a group setting. Heath should be everyone's number one concern, everyone needs to get some sort of exercise daily, and this is a fun way to get that in.
Read more Mom stories below and submit your info to be featured next!