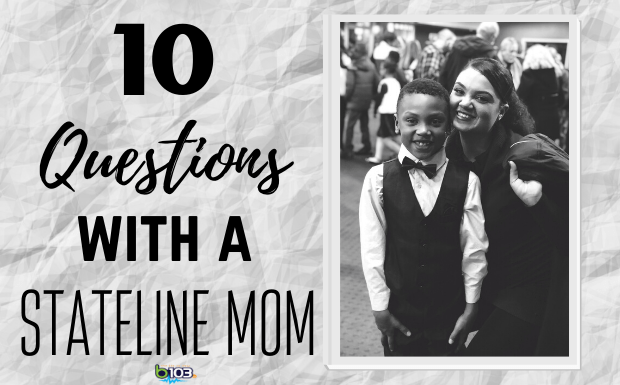 Quick Stats-
First Name: Adriana Goza
Age:28
Town: Rockford
Marital Status: Single
Kid's genders and ages (names optional):7, Ziayr
Occupation: Float CNA 2 at Mercyhealth Hospital but currently staying home due to COVID and underlying health diagnosis.
1. What was childbirth like for you?
TERRIBLE!!! 36 hours, I did about 28 hours all-natural before I got an epidural. I had a double episiotomy, threw up through labor, and my sister almost passed out and dropped my leg hahaha!
2. If someone walked into your house right now…what would they see?
Other than the dinosaur toys all over the living room floor, it's spotless! My son and I chowing down on some fried catfish and spaghetti and watching The Game Plan on the couch.
3. What's something simple that you love getting to do alone when you get the chance?
I like to drive. Something about listening to my favorite songs and singing my heart out eases me.
4. What was the first thought you had when you found out you were pregnant?
I thought my life was over hahaha! Little did I know it was only the beginning!
5. What do you daydream about?
The beach, it's been far too long!
6. What's one thing you miss being able to do before you had children?
Spontaneous road trips used to be my favorite thing to do. Now if I don't plan it out, pack snacks, make sure the tablets charged, etc it's the worst time ever.
7. Wine, cocktail, or Beer?
Cocktail me, please!
8.Any regrets?
None! Every situation is a lesson in one way or another. Might not seem like it at the time, but there's always something to learn and grow from it.
9. Do you have a good support system?
I have an amazing support system! It truly does take a village and I'm sooooo blessed to have mine!
10. How many activities are your kids involved in right now?
Due to COVID, I'm still undecided about activities, but normally our life would be revolving around football! Ziayr plays for the Rockford Renegades, this year would be his third year and we LOVE it!
Read more Mom stories below and submit your info to be featured next!