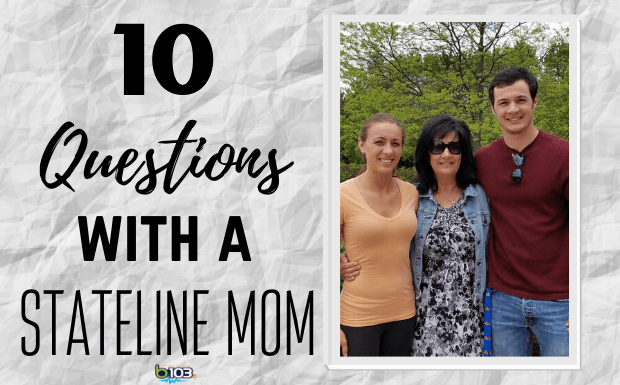 Name: Sarah
Age: 59
Town: Belvidere
Marital Status: Divorced
Kids: Female-29, Male-26
Occupation: RN
1.  How are you feeling right now?
Great! I just got done working out!
2.  If you could go back to one part of your kid's life and enjoy it all over again…what would it be?
It would be all of their life because life goes by way to fast!
3.  Was it difficult trying to get pregnant?
No, fertile myrtle here, HAHA!
4.  Do your kids do chores? If so, what? Do they get an allowance?
Well, when they were younger they absolutely did chores made their beds Motha lawn did the dishes vacuumed and dusted, while I watched. (I helped)
5.  What's one "mom chore" you would forever outsource if you could?
Laundry!
6.  Do you have any picky eaters? How do you deal with it?
Both, One of my children likes their bacon crispy the other one likes it limp and I don't like bacon at all. LOL!
7.  Do you daydream about being a stay at home mom/working mom?
It would've been nice to spend more time with my kids but I was brought up to be a hard worker so I would be lost if I did not work.
8.  What's your (honest) meal plan for the week?
It's called the, "I wing it meal plan!"  I really don't have one since my son is at college and my daughter has her own home.
9.  Anything you are looking forward to at the moment?
A little mini-vacation with my kids in August.
10. Describe an average day in your life:
Three Days a week I'm a traveling nurse and the other days I try and spend with my family.
Read more Mom stories below and submit your info to be featured next!