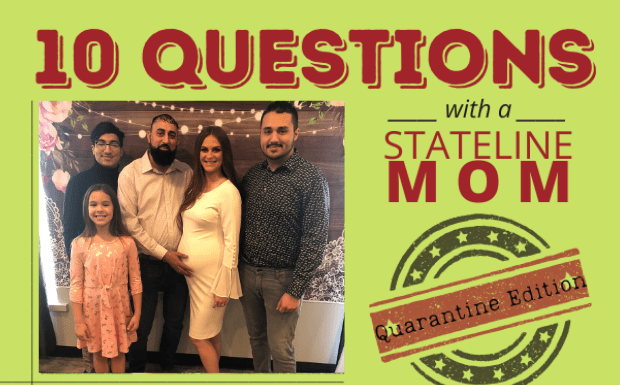 Name: Kira
Age: 27
Town: Rockford
Marital Status: Married
Kids: My bonus boys: Ali, 18 and Hakim, 17. My gorgeous girls: Kianna, 8 and Kamora, a little over 1 month
Occupation: Regional Director of Services @ In Home Personal Services and Independent Consultant @ Pampered Chef
1. How is homeschooling/e-schooling going?
I'm definitely ready for their summer break. Some days it was like pulling teeth to get a few of them to do schoolwork but I won't mention any names LOL! Not to mention, I am NOT a teacher!!!
2. What are you doing to keep active during quarantine?
There's always something to be done as a mom of 4. Someone always wants or needs something, sometimes multiple kids at the same time! Even with the older ones, you never stop being a parent just because they get older.
3. What have you been binge watching while in quarantine?
I don't watch much tv but I have watched Little Fires Everywhere and Chrisley Knows Best.
4. How are your kids handling quarantine?
They're stir crazy. We all had very busy lives with their extracurricular activities before quarantine and that's all been put on hold.
5. Have you been appreciating the little things lately?
FOR SURE! A simple car ride around town seems like the best adventure lately.
6. Do you wear a mask or gloves in public?
I've only gone in public a few times during quarantine due to being SO pregnant and having a newborn now but I wear a mask. Gloves are pretty much pointless, in my opinion. Wash and sanitize!!
7. Are you still working? Do you still go into work or work from home?
I worked my full time job from home March 16-April 17th, but have been on maternity leave since then. Currently, I'm just doing Pampered Chef virtual parties.
8. Parenting style during quarantine: More strict, the same, or more laid back?
More laid back. The older three have had their lives flipped upside down and it's already hard enough on them. We try to come up with tasks to keep them busy but that doesn't always happen. The baby doesn't know anything except quarantine, she's just soaking up ALL the cuddles ALL the time!
9. What's been the hardest part about sheltering in place?
Being away from family and friends, without a doubt.
10. Are you doing more things as a family these days? If so, what?
We play board or card games and take walks together almost every day!
Read about more moms and sign up to be featured next by clicking below…