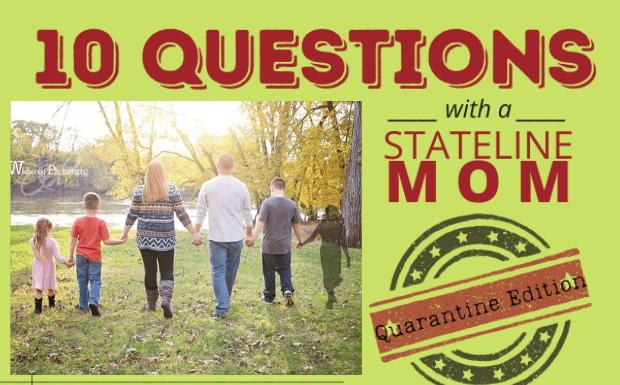 Name: Samantha
Age: 36
Town: Machesney Park
Marital Status: Married for 13 years..together for almost 20! (It's been a LONG, bumpy road but I wouldn't change it for the world)
Kids: We have 2 boys, 13 & 11 and 2 girls , Our Alexa would be 8 (she passed away) and our other daughter is 7 🙂
Occupation: Support Staff in a school district
1. How is homeschooling/e-schooling going?
We started out pretty good with a great routine. We have kind of slipped out of our routine but we still get it done everyday!
2. What are you doing to keep active during quarantine?
Well, I was excited because I was given a treadmill and this was my time to shine and actually use it BUT I have only been on it 3 times haha As a family we do go on walks, bike rides, play catch, etc.
3. On a scale from 1-10, 1 being "I'm losing my mind" to 10 "I am killin' it," how are you handling this 'new normal?'
I'm sitting at a good 5 most days!
4. What have you been binge watching while in quarantine?
With 3 kids fighting over the tv's, I don't watch much but I do love Ridiculousness…This show makes me laugh so hard and laughter is the best medicine!
5. How are your kids handling quarantine?
We have had some breakdowns, which they are entitled to, but we always get through it!
6. Do you have a routine for your kids on weekdays?
Yes, They wake up, eat breakfast then start school work….when they finish it for the day they are done and "should" starting working on their chores.
7. Have you been appreciating the little things lately?
Oh Yes. After our Alexa passed away 8 years ago we had a new look on life and to appreciate the little things….this whole pandemic has only made us appreciate things much more.
8. What's the first thing you'll do when sheltering in place is over?
Oh man, probably dinner with friends (and a drink) 🙂
9. Parenting style during quarantine: More strict, the same, or more laid back?
Depends on the day and the attitudes my children wake up with. 🙂
10. What have you discovered about yourself or your family during this time?
That we all need a break from each other once in awhile haha
Read about more moms and sign up to be featured next by clicking below…