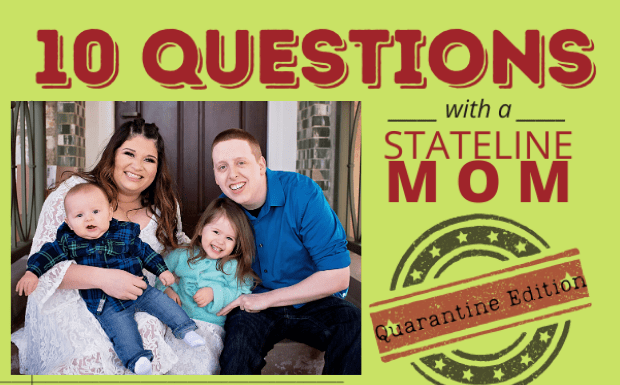 Name: Adrianna
Age: 27
Town: Rockford
Marital Status: Married
Kids: Bailey 4 and Austin 1
Occupation: Server
1. What are you doing to keep active during quarantine?
Lots of coloring, playing in backyard, dancing, baking lots of goodies, cleaning up after ourselves.
2. On a scale from 1-10, 1 being "I'm losing my mind" to 10 "I am killin' it," how are you handling this 'new normal?'
I'd say we are at a 7 lol. Coming up with new activities at this point of quarantine has been harder but luckily we enjoy each others company!
3. How are your kids handling quarantine?
We were supposed to move to Michigan. Covid-19 postponed those plans so now we are staying with my parents until we are able to move. This has been a big change for them. I feel they are doing great though considering they are surrounded by even more people they love!
4. Do you have a routine for your kids on weekdays?
We wake up, watch a few cartoons, make breakfast together, eat, clean, play most of the morning, many snacks are made. Then nap time for my youngest. After that we usually color or play outside. We then cook dinner together, bath time and then bed time!
5. Have you been appreciating the little things lately?
I have. Trying to remember that one day they won't be so little. The fact that they won't remember any of this due to their age is nice. It's scary and it's nice knowing they don't have any worries!
6. How many rolls of toilet paper do you have right now?
12 pack.
7. Have you been connecting with friends & family virtually? If so, how and what have you been doing?
Oh yeah. I am in a virtual hangout on snapchat with a few friends. Facebook messenger is what we switch to when snapchat connection gets questionable. Finally we like to play games on houseparty some nights. It's nice to stay connected. I've learned soooo much about video chatting lol.
8. On a scale from 1-10, 1 being "I'm just washing my hands" and 10 being "I'm washing and sanitizing every little thing that enters my house," where do you land?
Oh I sanitize everything. Spray groceries down with lysol as soon as they are loaded in car. Shoes stay outside, hands are washed many times a day. Better safe than sorry!
9. Are you still working? Do you still go into work or work from home?
I am not working… it is unfortunate because I put my 2 weeks in the week before quarantine because we were supposed to move for my Husband's job. Well now that has been postponed… I applied for unemployment but looking like I won't be approved now.
10. What's been the hardest part about sheltering in place?
The hardest part is trying to find new activities for the kids. That and trying to go to store only once a week. I make detailed lists to help!
Read about more moms and sign up to be featured next by clicking below…