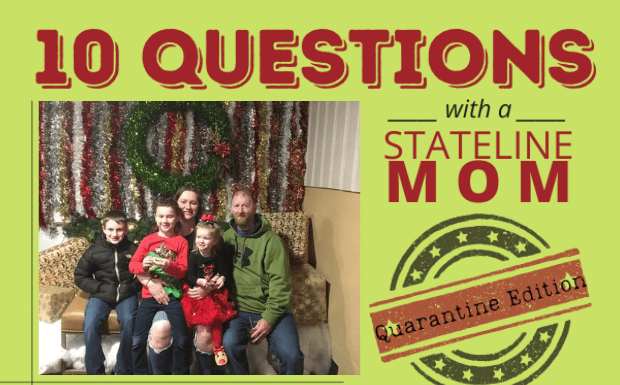 Name: Caroline
Age: 28
Town: Stillman Valley
Marital Status: Married
Kids: Bentley 9, Nolan 6, Harper 3
Occupation: Server/ Bartender (laid off due to the pandemic)
1. What have you discovered about yourself or your family during the stay at home order?
I lack the patience I once had. And my 9 year old may be smarter than me 😉
2. What are you doing to keep active during quarantine?
We still go outside and run around, play baseball & basketball. All done in our own yard. On rainy days we use 'gonoodle' for some active fun.
3. What have you been binge watching while in quarantine?
Absolutely "A million little things" and old school Disney movies.
4. Do you have a routine for your kids on weekdays?
Yes. Routine and schedule are a must to cut down on chaos. I have an outlined schedule for the school day.
5. What's the first thing you'll do when sheltering in place is over?
Go on a little get away. And drink a latte while roaming Target.
6. How many rolls of toilet paper do you have right now?
17 rolls. More than we usually buy, but not hoarding status.
7. On a scale from 1-10, 1 being "I'm just washing my hands" and 10 being "I'm washing and sanitizing every little thing that enters my house," where do you land?
An 8. I could be more strict about it. But still bleaching and wiping etc.
8. What's been the hardest part about sheltering in place?
Keeping mind and spirit on an upscale.
9. Were any important plans ruined by sheltering in place? If so, what?
Yes. Our Annual Anniversary trip to the Dells that was planned for April 18th.
10. Do your kids miss school?
Bentley says no. Nolan misses recess.
Click below to read more and sign up to be featured next…