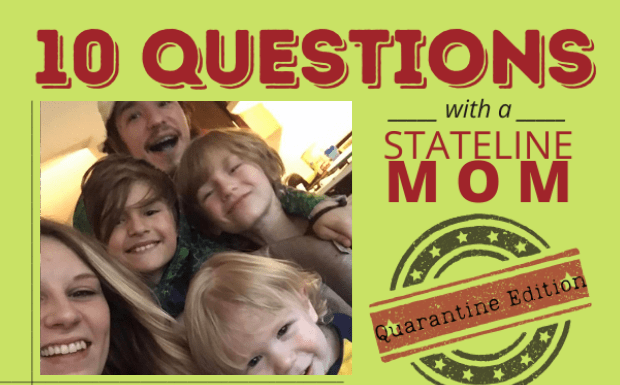 Name: Caitlyn
Age: 30
Town: Rockford
Marital Status: Married, pretty much
Kids: 3 Boys- Julian, 11, Walter, 7, Myles, 2
Occupation: Server/Bartender
1. How is homeschooling/e-schooling going?
Homeschooling? That's where we're at
2. What are you doing to keep active during quarantine?
We take a lot of "adventure" walks with the kids, luckily the backyard has a huge forest that leads to twin sisters and the kids love having the space to run around
3. On a scale from 1-10, 1 being "I'm losing my mind" to 10 "I am killin' it," how are you handling this 'new normal?'
6
4. What have you been binge watching while in quarantine?
The Outsiders, Westworld, and we've watched a ton of movies
5. How are your kids handling quarantine?
The kids are enjoying quarantine as long as there's Fortnite and internet they can handle anything at home
6. Do you have a routine for your kids on weekdays?
There is no longer a routine, or structure, we're all just making it up as we go lol
7. Have you been appreciating the little things lately?
Always appreciate the little things! Quarantine or not
8. What's the first thing you'll do when sheltering in place is over?
On my way! Gosh I'm not sure hopefully just get back to work and get back to our NORMAL daily routine and have a regular bedtime for us all again lol
9. How many rolls of toilet paper do you have right now?
Not enough toilet paper
10. Do you wear a mask or gloves in public?
We don't really do the mask and gloves thing we just wash our hands after shopping and wipe down everything.
To read more and to sign up to be featured next, click below…