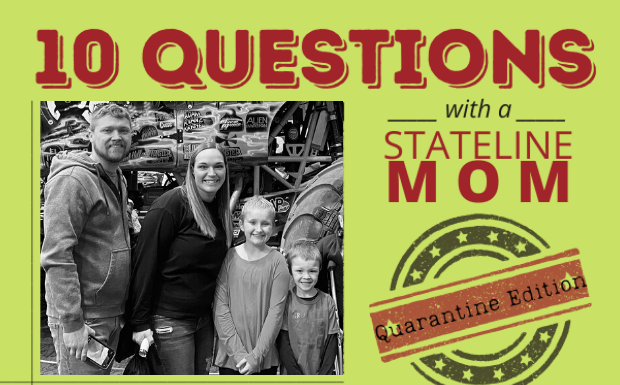 Name: Jessica
Age: 28
Town: Loves Park
Marital Status: Common law marriage lmao, just kidding in a relationship
Kids: Kaylee-10, Karsen-5
Occupation: Laid off…so currently a stay at home mom
1. Are you doing more things as a family these days? If so, what?
We have done a lot of fun stuff together. We got cookie decorating kits, we've done big 500 piece puzzles together, watched movies, jumped on the trampoline, sang and danced together. It's been great having extra family time.
2. Parenting style during quarantine: More strict, the same, or more laid back?
Laid back. We've been up late playing games, sleeping in, eating snacks and junk food. They are already going through so much between missing their friends and teachers and not being able to see family or go out and do anything, so we're just letting them live a little.
3. On a scale from 1-10, 1 being "I'm losing my mind" to 10 "I am killin' it," how are you handling this 'new normal?'
Well I'd say about a 7. I'm ready for it to be over because I'm so tired of being stuck in the house, but on the other hand it's been nice having a reason to just stay home in our pajamas together.
4. Do your kids miss school?
They really do. They miss their friends a lot. My son is constantly talking about wanting to hug his teacher again. It was fun being home the first week or so and now they're ready to go back!
5. If you have joint custody with an ex, are you still exchanging the children on the same schedule?
Kaylee goes between our house and her mom's house as scheduled. Both houses have been practicing social distancing and have been good about being cleaning and sanitizing things.
6. Have you been appreciating the little things lately?
I really have. Being at home all day with my kids has been a blessing in disguise. We're an 'on the go' family. From birthday parties, both of us working full time, and everything in between, we rarely had a weekend of doing absolutely nothing so I've been appreciating doing nothing with my kids.
7. Do you wear a mask or gloves in public?
I wear a mask, no gloves. But I bring clorox wipes with me so I don't have to touch a gas pump and to clean off anything before I touch it. I also made some hand sanitizer that I keep in my car as well.
8. Have you been connecting with friends & family virtually? If so, how and what have you been doing?
We have been doing a lot of FaceTiming! I have also been Club Crazin' with my ladies from the Y through Zoom! That has been so much fun.
9. What have you discovered about yourself or your family during this time?
I'm not cut out to be a stay at home mom. Love my kids but I am a working momma. Props to you stay at home moms. I'm running out of things to keep them occupied.
10. On a scale from 1-10, 1 being "I'm just washing my hands" and 10 being "I'm washing and sanitizing every little thing that enters my house," where do you land?
I'd give myself an 8. I'm not sanitizing my grocery boxes or anything like that, but everything else I've been washing and sanitizing frequently.
Click below to read more and sign up to be featured next…