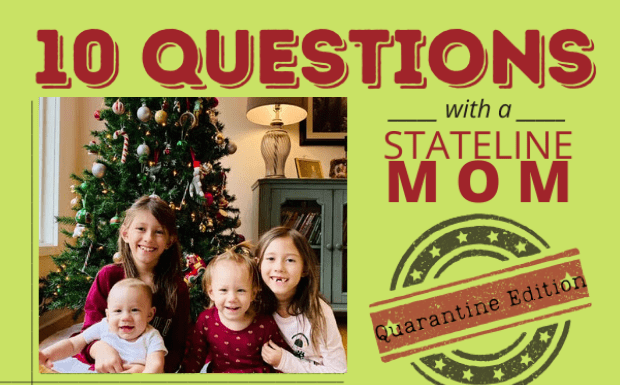 Name: Linsay
Age: 28
Town: Rockford
Marital Status: Married
Kids: Sophia- 8, Bella- 6, Alina- 2, Ashton- 11 months
Occupation: Stay at home mom
1. How is homeschooling/e-schooling going?
Not the best, but I'm trying!
2. What are you doing to keep active during quarantine?
Going on daily walks with the family and our pup and having dance offs with my my kids. They always win!
3. On a scale from 1-10, 1 being "I'm losing my mind" to 10 "I am killin' it," how are you handling this 'new normal?'
4! Going crazy, but haven't lost my mind yet
4. What have you been binge watching while in quarantine?
This Is Us! Watch it every chance I get!
5. How are your kids handling quarantine?
So much better than I am! They don't mind being in the house 24/7. They have yet to run out of things to do.
6. Do you have a routine for your kids on weekdays?
Not at all! Just make sure they're up by 11
7. Are you doing more things as a family these days? If so, what?
Yes! We have been playing card games on a daily basis with our 2 oldest once our 2 youngest go to sleep for the night. They are loving being able to spend more quality time with us now that they go to sleep just a little later.
8. How many rolls of toilet paper do you have right now?
12, thanks to my momma!
9. Have you been connecting with friends & family virtually? If so, how and what have you been doing?
FaceTime with family on a daily basis.
10. Have you watched Tiger King? What are your thoughts?
Watch it when hubby and I get a chance to watch tv together and it is really weird! Haha