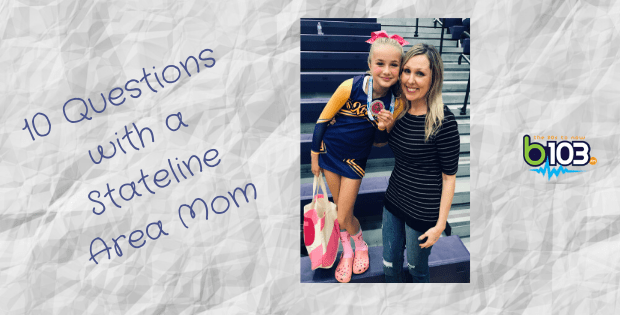 Name: Lisa
Age: 42
Town: Roscoe
Marital Status: Divorced/Single
Kids: 11 yr old daughter Teagan…who is going on 17!
Occupation: Program Director/On Air Personality at b103
1. Did you always plan to be a mom one day?
Yes. But it wasn't until I got married that I really started to plan on it. I think I was cut out to only have 1 kid and I lucked out on the one I got!
2. If you could have a kid free night out, what would you do?
I love going out with friends and catching live music somewhere. But let's be honest, I usually end up at TJ Maxx looking at every single thing in every single aisle. Am I wild and crazy or what??
3. Are you strict about the food your kid eats?
I try my best to encourage healthy eating but my daughter is really picky. She loves most fruit, avocado, and green beans so I try to have those on hand to balance things out.
4. Is there something you used to secretly judge moms about until you had your own?
I hate to admit it but yes! It was mostly when I'd see kids looking messy with crazy hair in public and I'd swear I'd never let my kid look like that…until I did lol. Once you're a mom you realize that just getting your kid somewhere you need to be is a victory in itself.
5. Fill in the blank: "I need more ______right now."
Social life! My week is so busy with work and kid stuff that I'm exhausted by the weekend and rarely want to do anything. My cat is probably getting sick of me lol!
6. What's the best parenting advice you've received?
My best friend is also a single mom with a daughter who is 8 years older than mine. She told me years ago you have to find the sweet spot where your daughter feels comfortable telling you almost anything and being open with you but at the same time fears that you may lose your **** at any moment so she stays in line. It's a fine line but so far I feel I'm managing it pretty well!
7. What was your first thought when you found out you were pregnant?
It was the day before New Year's Eve and I was completely shocked! I'd been married just over a year but I did not think it would happen so quickly. I had friends who were on fertility medication and calculating their ovulation and here I am not even really trying and it happens. The shock quickly changed to total excitement once it sunk in though!
8. If you could hire help for something…what would it be?
I actually just hired a cleaning service to come to my house every 3 weeks. It's seriously the best money I have ever spent! I can't express how happy I am to have this task off my plate and not have to spend every weekend cleaning.
9. What do you love most about your child's age right now?
It is so amazing to watch my little girl become a young woman. She is an old soul and many times she is the one giving me advice and calming me down! I love hanging out with her and having 'friend-like' conversations. We also share a similar sense of humor which I love. She's an awesome girl!
10. What are you most looking forward to right now?
My daughter and I are heading to Florida with some friends for spring break. I cannot wait to get a week of sun, fun, and quality time with her.