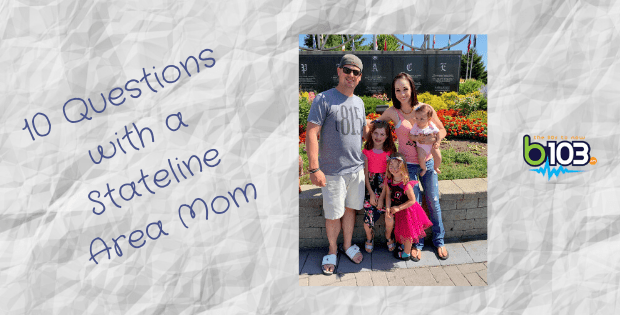 Name: Stefanie
Age: 34
Town: Machesney Park
Marital Status: Married
Kids: 3 girls. Ages: 9, 4, and a 9 month old.
Occupation: Homemaker and a Homeschooling Stay-At-Home-Mom (Former Elementary Education Teacher, 2008 Rockford University Graduate).
1. What was childbirth like for you?
Call me crazy, but I love it. All three times were unmedicated and spontaneous. My first child was a hospital birth and then my two subsequent births were planned home water births attended by a Midwife. It's all mind over matter for me.
2. If someone walked into your house right now…what would they see?
The living room strewn with Barbies and LOLs, magnetic blocks, a blanket fort made with stools, baggies of homemade glitter and mud slime, a container of scented essential oil play dough we made ourselves, YouTube Do-It-Yourself Barbie accessory videos playing on the TV, felt and hot glue crafts on the dining room floor, crumbs scattered around my half swept kitchen floor, a sink full of dishes and a laundry pile here and there. Oh, and three kids just living their best life.
3. What's something simple that you love getting to do alone when you get the chance?
I'd say pedicures are my thing. I love the Lavish Nail Bar located on Route 173.
4. What was the first thought you had when you found out you were pregnant?
When I found out that I was pregnant with my first child at 24 years old I thought, "Oh, sh*t…this wasn't planned!"
5. What's one thing you miss being able to do before you had children?
I miss going to concerts. Dave Matthews Band is my favorite and I love seeing their performances at Alpine Valley in Wisconsin.
6. If you had an extra hour a day…what would you do?
Yoga! I would love the mindfulness to take a moment to just breathe.
7. Wine, cocktail, or Beer?
My 21 year old self would say cocktail, my late 20's self would choose beer, and currently I'd pick wine. A semi-dry wine, Aldi has a brand called Winking Owl which is affordable and tasty, my go-to!
8. How would you describe your parenting style? Helicopter? Granola? Competitive? Free Range? Other?
I just can't commit to one label. Yes…a helicopter when safety becomes an issue. I AM a total crunchy Granola mama. Competitive? Nah. Free Range? I guess I like my children how I like my eggs.
9. Do you have a good support system?
Yes, I do. It is small but mighty. My husband and a few close friends that I can rely on.
10. How many activities are your kids involved in right now?
Since we homeschool we are constantly out and about taking advantage of many events in the Stateline area. Our current favorites are the free Children's Build-It Workshops at Home Depot every first Saturday of the month, Michaels kid crafts on the weekends, the Nicholas Conservatory classes on Saturday's and regular visits to Discovery Center Museum and Burpee where we have memberships keep us active for now!
*Interested in being our next featured mom? Email Lisa Tyler: Lisa@b103fm.com*
Read about past featured moms here: https://www.b103rockford.com/10-questions-with-a-stateline-area-mom/