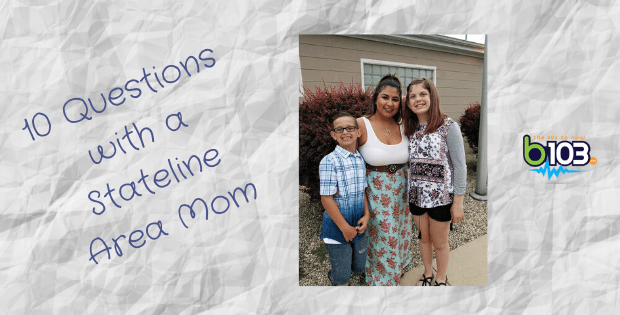 Name: Cassandra
Age: 31
Town: Belvidere
Marital Status: Single
Kids: 12 yr old daughter Cayliana and 9 yr old son Keiden
Occupation: Administrative Assistant
1. What was childbirth like for you?
My daughter was the Worst I was in labor for 25 hours, only dilated to 6, I was fine, I managed the pain but they told me that once I was at a 7 that they couldn't do an epidural and if I did the epidural that could speed up the process so I did, well I turned into Emily rose and was throwing up exorcism style after having the epidural it just wouldn't stop then after hours of waiting, puking every organ out my body, my daughter still didn't want to make an appearance and the worst thing was I WAS STILL DILATED at a 6.5. So, they had to finally throw in the towel and say "we are going to have to do a C-section" , I was so out of it that I barley could keep my eyes open so they rush us back there and start the process. As I am in and out of consciousness, I open my eyes and I see blood just splashing all over the doctors and nurses standing over me and I pass out. I wake up and my entire body is rocking back and forth and I pass out, I feel like I can't breath because they gave me more numbing stuff through my IV, the last time I opened my eyes in the operation room I turned my head and I see thee most beautiful dark haired baby girl and then I passed out again. Woke up in the recovery room hours later, I woke up and was told that my cervix was too narrow and that my baby was too big she weighted in at 8.8lbs — needless to say that when I had my son we scheduled our C-section right away and thank goodness we did because he was a WHOPPING 12 LBS!!

2. If someone walked into your house right now…what would they see?

Our living room, kids shoes, our dog would jump on you.

3. What's something simple that you love getting to do alone when you get the chance?

Watch TV.

4. What was the first thought you had when you found out you were pregnant?

My parents are going to be so disappointed.

5. What do you daydream about?

A cute, decorated home and CLEAN!

6. What's one thing you miss being able to do before you had children?

I had my first daughter at 18 so I would say being young.

7. If you had an extra hour a day…what would you do?

My hair.

8. Any regrets?

Not having the confidence as a young girl to leave a bad relationship.

9. How would you describe your parenting style? Helicopter? Granola? Competitive? Free Range? Other?

There is no parenting guide, I am open with both my kids, I explain why I say "No" , I explain the do's and don't's , I have to meet every parent before my kids hang out with their friend, I have to know where they live, my kids can't just roam the streets, I guess a free range helicopter.

10. Do you have a good support system?

Oh my gosh YES!

*Interested in being our next featured mom? Email Lisa Tyler: Lisa@b103fm.com*
Read about past featured moms here: https://www.b103rockford.com/10-questions-with-a-stateline-area-mom/