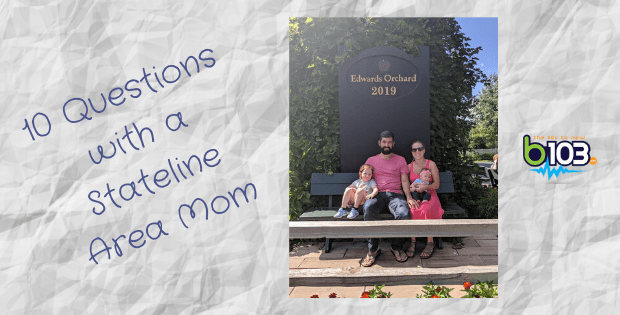 First Name: Britainee
Age: 29
Town: Machesney Park
Marital Status: Married
Kids: Daughter who is 3.5 months and a stepdaughter who is 4 years old
Occupation: Stay at home mom
1. Do you have a "vent buddy" when you are about to lose it?
Yes I absolutely do! She's also a stay at home mom with 2 kids. Some days I'd go absolutely crazy without her help and advice.
2. Do you make time for date nights?
No. We should but always too exhausted.
3. What's one part of parenting that you're going to do differently than your parents did?
I want to try to be a friend and understand my kids more than boss them around and have there be resentment
4. . If you could hire help for something…what would it be?
Someone to do my hair and makeup everyday because definitely no time for that anymore!
5. What's something parenting wise you wish you were better at?
Having patience. Sometimes I just want to explode. But that's not setting a good example.
6. When was the last time you got an uninterrupted, full night's sleep?
Almost 4 months ago.
7. If you get a night alone with the TV, what are you watching?
Reruns of Grey's Anatomy
8. What's something you totally "get" now that you are a mom?
How much you can love a person. It's insane how as a mom you'd literally do anything for your small human.
9. Do you get any "Me" time? If so, what is it?
I sometimes sneak out on weekends when dad is home for a mani/pedi.
10. Describe the inside of your car right now?
Perfect. Can't stay sane with a messy house or car.
*Interested in being our next featured mom? Email Lisa Tyler: Lisa@b103fm.com
Read about past featured moms here: https://www.b103rockford.com/10-questions-with-a-stateline-area-mom/