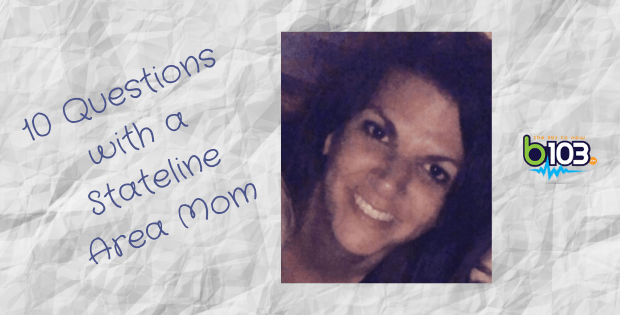 First Name: Kristy
Age: 39
Town: Loves Park
Marital Status: Happily married
Kids: 4 year old Kenna and 1 year old Colton who will be 2 in December.
Occupation: Full time stay at home mom and part time work from home call coordinator for Black & Jones Attorneys at Law.
1. Do you have a "vent buddy" when you are about to lose it?
Definitely my mother. She will always be that one person I can call and say anything to. I can scream, cry and laugh with her. She is my number one vent buddy till the end.
2. Do you make time for date nights?
Unfortunately we don't make enough time for ourselves and date nights which we need to do more of.
3. Describe the inside of your car right now?
MESSY, crumbs, kids cups and water bottles
4. If you could hire help for something…what would it be?
To clean the house…I so hate cleaning and to think for about 7 years I worked for my mom cleaning houses. It's always easier cleaning someone else's house.
5. What's something parenting wise you wish you were better at?
There is always room for improvement when parenting. My kids help me be a better parent each day.
6. If you get a night alone with the TV, what are you watching?
Grey's anatomy, Million Little Things and I just finished 5 seasons of Jane the Virgin on Netflix. One of my absolute favs. So sad its over.
7. What's your favorite aisle in Target or in your favorite store?
Every aisle is my favorite at Target. I always go into to Target for one thing and come out with a cart full.
8. What's something you totally "get" now that you are a mom?
You can't always be that cool mom who wants to be their best friend all the time. You have to be that mom who teaches your kids right from wrong. Sometimes they will dislike it, but that's ok because you're their mom not their friend.
9. Do you get any "Me" time? If so, what is it?
Hardly, with being a stay at home mom and also working from home I rarely have me time.
10. What's the oddest item in your purse right now?
Probably some broken crackers or some sort of kids food that is not in it's package.
*Interested in being our next featured mom? Email Lisa Tyler: Lisa@b103fm.com
Read about past featured moms here: https://www.b103rockford.com/10-questions-with-a-stateline-area-mom/