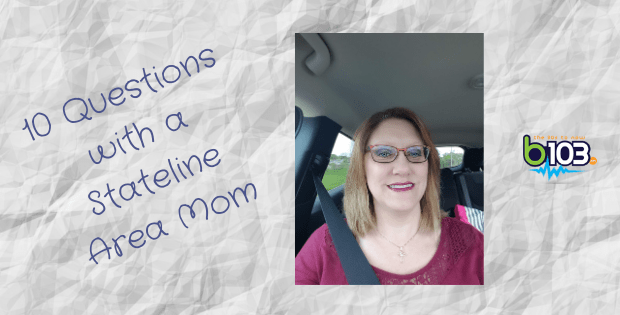 Name: Heather
Age: 29…I mean 52 lol
Town: Belvidere
Marital status: Getting divorced (shhh)
Kids: I have a daughter who is 25 and married and a son who is 20 and lives at home.
Occupation: I am a church secretary and love my job.
1. Did you always plan to be a mom one day?
I always wanted to have children.
2. What's something you realized once you became a mom that you should never leave the house without?
When the kids were babies/toddlers, I learned the hard way to always have TWO changes of clothes.
3. Were you strict about the food your kids ate?
I tried to be strict with food but often found the kids didn't like or want what I was making for dinner. I fixed that with "Fun Food Friday". It allowed the kids to pick what they wanted for dinner, only sometimes causing me to fix three different things. As they got older, they had to find their own dinner, which sometimes was cereal, and that was fine. I found them to become less picky eaters.
4. Is there something you used to secretly judge moms about until you had your own?
I guess I didn't understand their frustration when the kids didn't listen. I did, and still do, tend to judge the parental behavior in public. Screaming at the crying child does no good. I have also seen parents handle the situation with grace, which made me happy. Seeing a child cower one time when the dad yelled made my heart break. She looked like she was afraid dad was going to hit her.
5. Were you strict with electronics? When did your kids get smart phones?
NO phone until 13 in this house and yes, I was strict. They had "home base" or a tracker on their phone and were subject to my viewing their phone at any given time. Usually wasn't too much trouble until son started deleting texts and locking his phone, which got taken away quite a bit for punishment.
6. What's your favorite aisle in Target or your favorite store?
Any aisle in a craft store, mostly the paper aisle. I make cards and scrapbooks.
7. If you could've hired help for something when your kids were young…what would it be?
I would have loved to have had a maid.
8. What are you currently obsessed with?
I am obsessed with crime and medical drama tv shows. I miss Patrick Dempsey on Grey's but love Taylor Kinney on Chicago Fire.
9. If someone walked into your house right now, what would they see?
Dog hair on the floor.
10. What was the first thought you had when you found out you were pregnant?
The first time I found out I was pregnant I was almost in shock that there was a tiny human growing inside me. I miscarried and found myself pregnant again two months later – complete joy!
*Interested in being our next featured mom? Email Lisa Tyler: Lisa@b103fm.com
Read about past featured moms here: https://www.b103rockford.com/10-questions-with-a-stateline-area-mom/