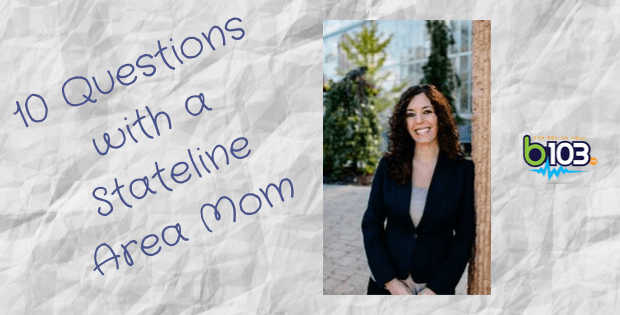 First Name: Andrea
Age: 36
Town: Cherry Valley
Marital Status: Married
Kids: We have a daughter and she's almost 6 months old already!
Occupation: Associate Director of Marketing & Communications at the Rockford Area Convention & Visitors Bureau
1. Did you always plan to be a mom one day?
Yes, absolutely. It has been my dream to become a mama for as long as I can remember. I'm so very grateful.
2. What's something you've realized since becoming a mom that you should never leave the house without?
In our case, a pacifier or two or three! We accidentally – emphasis on accidentally – did this once and it will never happen again. Fingers crossed. They instantly calm my daughter and keep her happy. My motto is, "If she's not happy, mama's not happy". Of course, I probably should've said diapers, wipes, change of clothes too. All equally just as important.
3. If you could have one night out with a free and trusted babysitter, what would you do?
My husband and I love to check out live music. That was something fun we would do regularly in our spare time. It gave us a chance to road trip and explore new areas, unique music venues and the local restaurants nearby. It would be cool to see a Lumineers concert at some point.
4. Do you have a "vent buddy" when you are about to lose it?
Me? Unraveled? Never!! Haha, Okay, Okay, yes I stress and worry from time to time. This is not a new concept for me just because I am mom now. At times I can be a real top-notch worrier. I do not have just A vent buddy, I have several, and I would be lost without them. They are my hubby, parents and bestie girlfriends and I love them all dearly.
5. Do you make time for date nights?
My husband and I do make time for date nights. They are few and far between but when we do we like to go out for a nice, relaxing dinner at places like Alchemy, Lino's, GreenFire or Nippons.
6. What's your favorite aisle in Target or your favorite store?
Target is one of my top favorite stores and I could definitely spend a good chunk of time in the Hearth & Hand by Magnolia section, and these days it's all about shopping for baby girl clothes. Give me all the Cat & Jack please! So, so, so cute!
7. If you could hire help for something…what would it be?
In my dreamworld I would love to hire a personal chef to cook the most amazing meals for our family. Walk in the door after a long day of work to the smells of home cooking and baked apple pie. Until that dream becomes reality, I'll settle for the ol' trusty crockpot.
8. What are you currently obsessed with?
I am currently obsessed with watching Working Moms on Netflix and eating ice cream for my 'me time' once we put our little one to sleep.
9. What was the first thought you had when you found out you were pregnant?
"Finally!!!!" Also, "Where's my to-do list?" (I like to plan)
10. What advice would you give to a mom-to-be?
Don't be like me and worry about every little thing while you're pregnant. And furthermore, absolutely NEVER search online for your child's symptoms like I'm guilty of doing. You'll go down the rabbit hole so quick. Keep things simple. I'm learning every day.
*Interested in being our next featured mom? Email Lisa Tyler: Lisa@b103fm.com*
Read about past featured moms here: https://www.b103rockford.com/10-questions-with-a-stateline-area-mom/