Judi Diamond – Mornings 6 to 10 am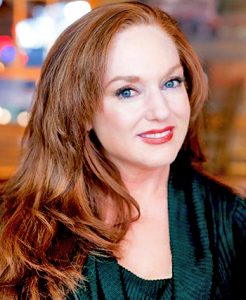 Q:  "Why Rockford?"
It's a question I've heard multiple times since joining b103 Midwest Family Broadcasting in Sept. 17'.  Born and raised in L.A., I wasn't alone to want the life of a performer.  My parents, on the other hand, were not too keen on me working in "the industry".  BUT, I am a redhead…nuf' said.  Yes, I have worked much my entire life as a multi-platform performing artist and writer in the big city of La La land and the slightly less but still big city of St. Louis.   I've been humbled and lucky to have walked red carpets, interviewed celebrities, been awarded honors like the ACM & CMA's, and even produced and starred in my own docuseries on Nickelodeon's Nick Jr. channel.
I am also blessed having two amazing kids, Shira and Leo, who thankfully put up with me, especially during the hard times (divorce, single mom thing) and, to the good times (the free concert tickets and being on national television was "pretty cool" so they say).
BUT in large cities, I found my work in radio (my favorite media) was being turned into boring, milk toast content thanks to the syndicated non-local radio you usually hear now.  I wanted to make a difference and be IN and a PART of a community.
So my answer:  "Why NOT Rockford?!"
When given the opportunity to come to this 'big little city' as I've heard it called, I took to it and have been so grateful and happy!  I'm allowed the creative freedom to actually connect to you, and be a part of the positive that I believe Media can be!  So THANK YOU for welcoming me, I'll do my best to make you happy for gifting us "your ears" each morning, and to looking forward to what will "come next" on The Morning Buzz! – Judi